There is still time to get those orders for our school fundraiser! Order forms are due October 3rd. We appreciate your continued support. // ¡Todavía hay tiempo para obtener esos pedidos para nuestra recaudación de fondos escolar! Los formularios de pedido vencen el 3 de octubre. Agradecemos su continuo apoyo.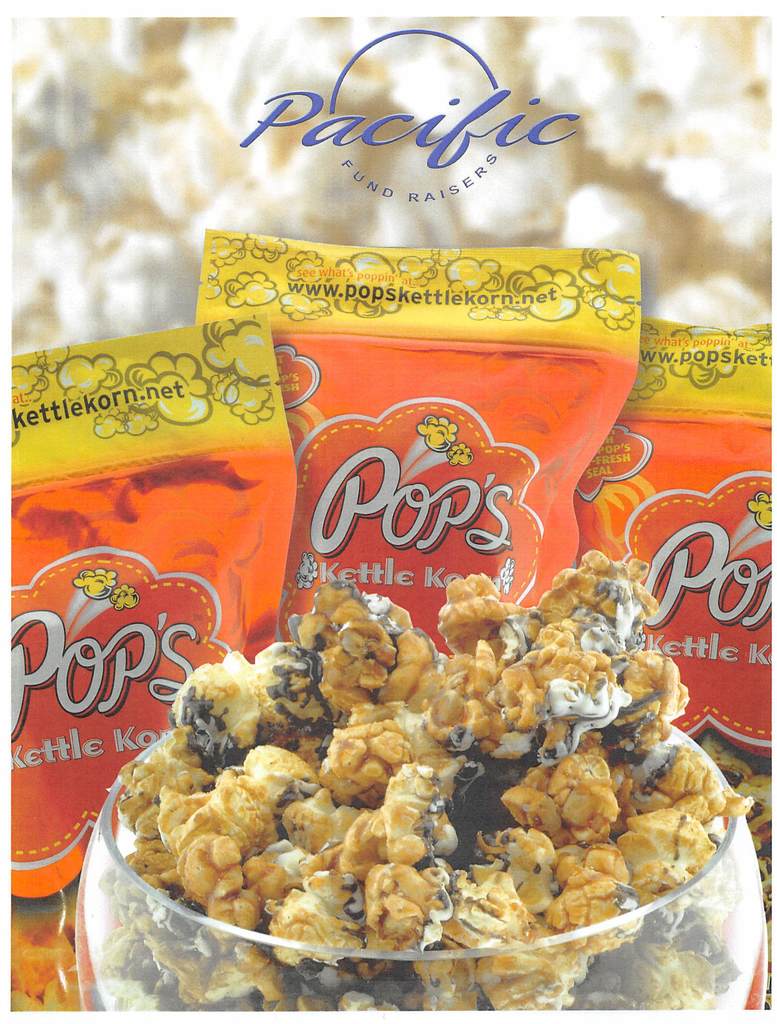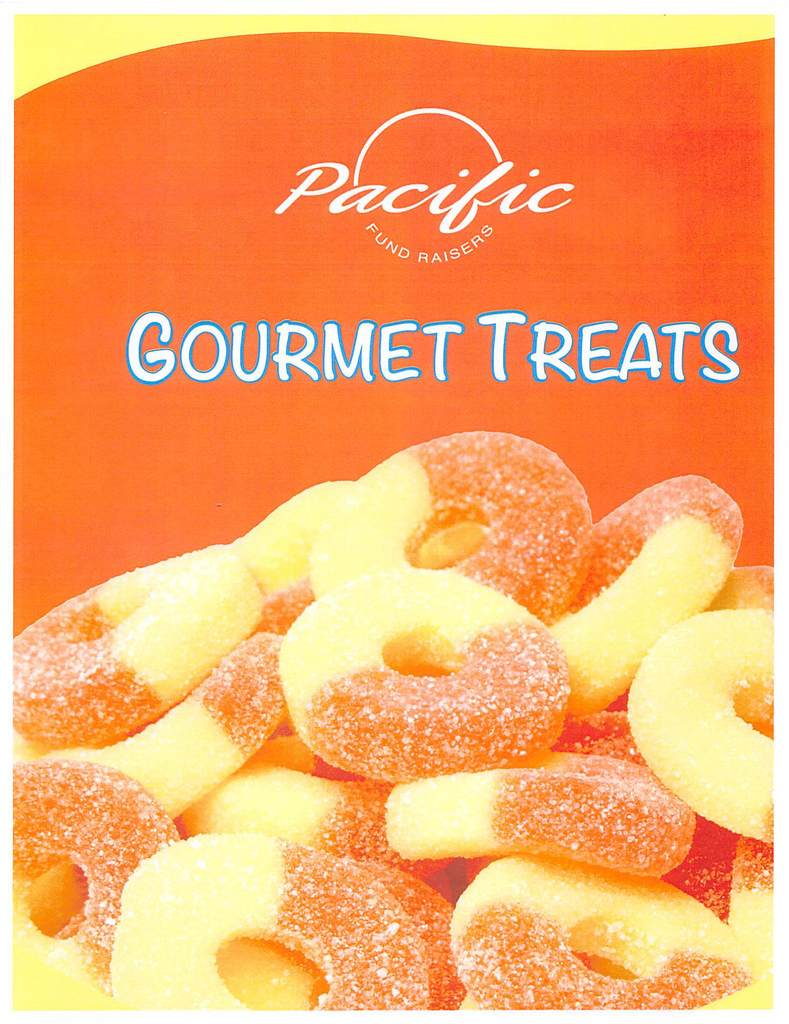 Have questions about Infinite Campus? This week, you can stop by the school between 11:45 am-2:30 pm for help. We have an open lab in rm. 31 with staff ready to help you complete the online registration process for current & new students. We are here to help! // ¿Tiene preguntas sobre Infinite Campus? Esta semana, puede pasar por la escuela entre las 11:45 am y las 2:30 pm para recibir ayuda. Tenemos un laboratorio abierto en rm. 31 con personal listo para ayudarlo a completar el proceso de registro en línea para estudiantes actuales y nuevos. ¡Estamos aquí para ayudar!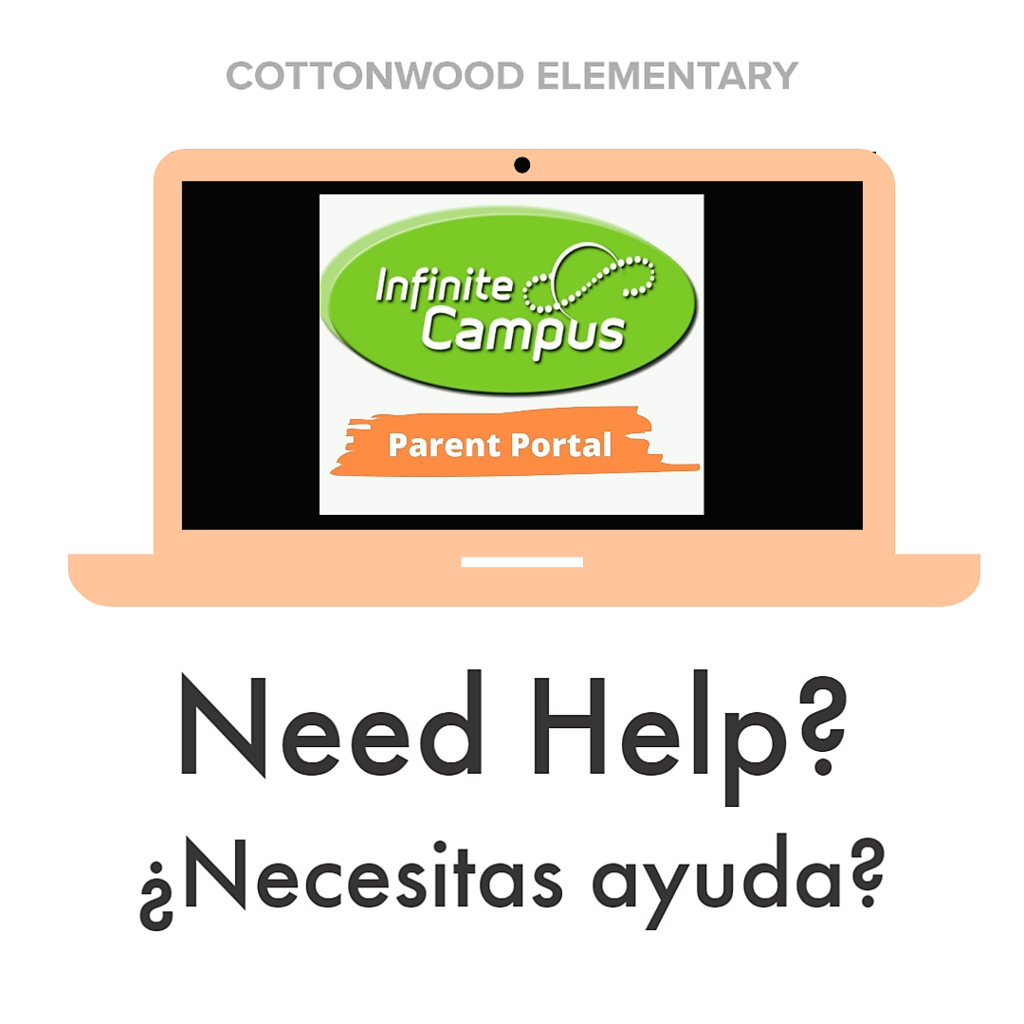 Good morning Cottonwood families. Today marks the beginning of our minimum day schedule for Parent/Teacher conference week. TK & Kinder students are released at 10:09 am. Grades 1st-6th are released at 11:40 am. Bus riders will arrive at earlier times. Refer the graphic for their arrival times. Please contact the teacher directly to schedule or confirm your conference time. Have a great day! // Buenos días familias de Cottonwood. Hoy marca el comienzo de nuestro horario de días mínimos para la semana de conferencias de padres y maestros. Los estudiantes de TK y Kinder salen a las 10:09 am. Los grados 1 a 6 salen a las 11:40 am. Los pasajeros del autobús llegarán más temprano. Consulte el gráfico para ver sus tiempos de llegada. Comuníquese directamente con el maestro para programar o confirmar la hora de su conferencia. ¡Qué tengas un lindo día!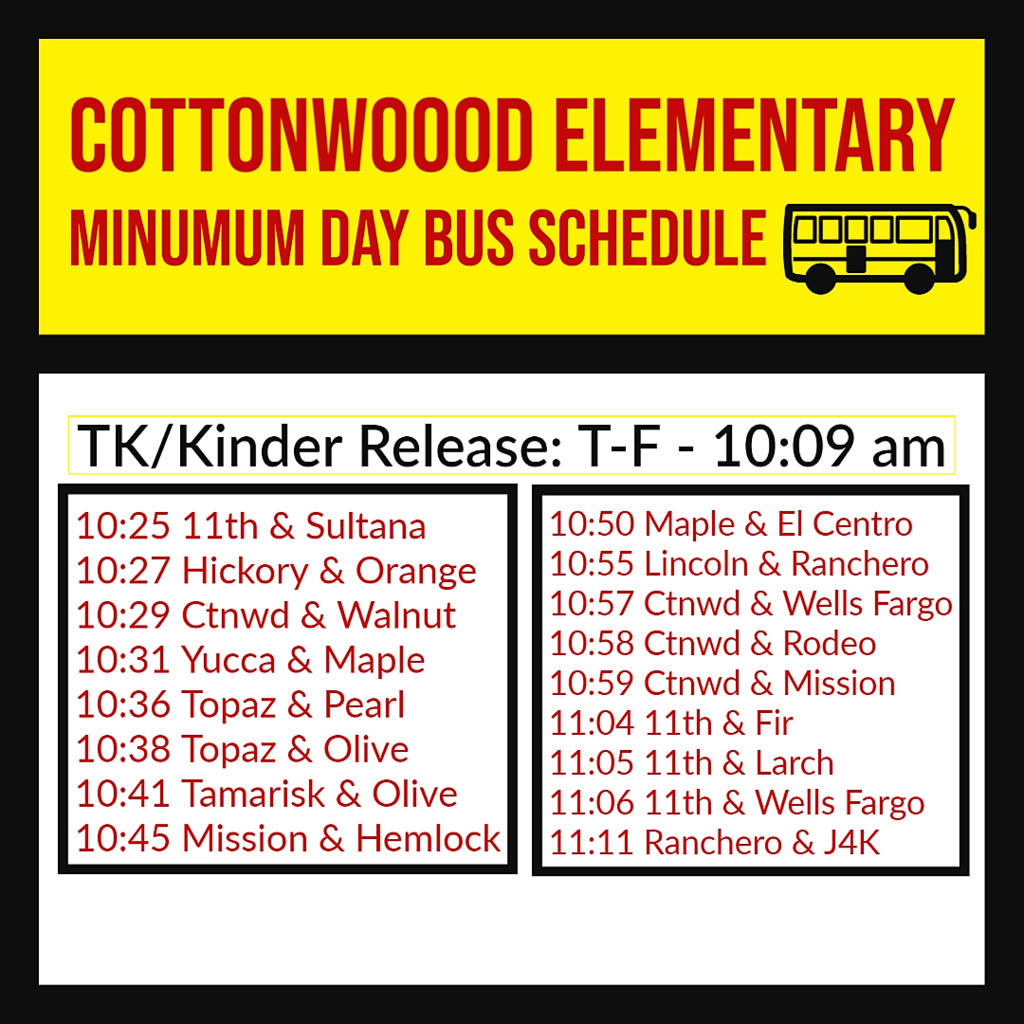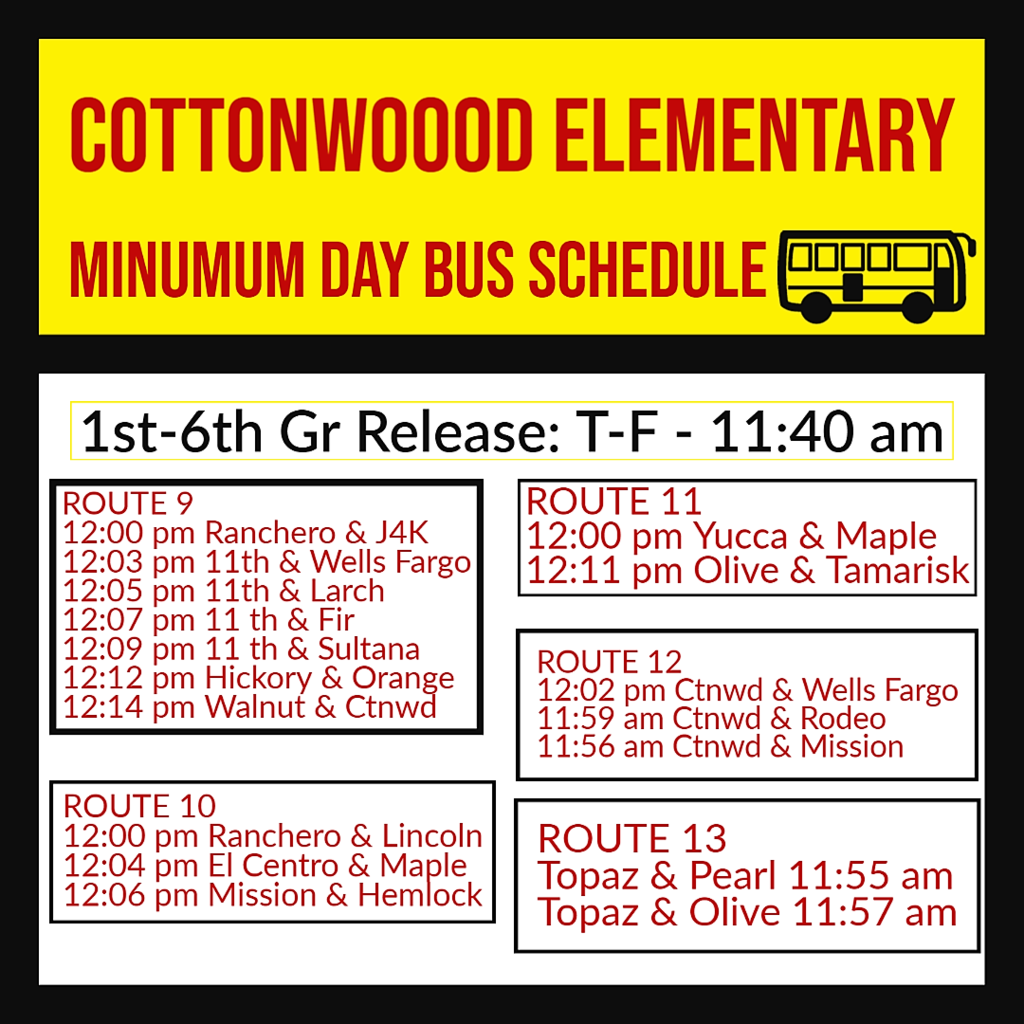 Just a reminder that we will be on a Minimum Day Schedule starting tomorrow Tuesday, September 27th - Friday, September 30th for parent teacher conferences. TK & Kinder Schedule: 7:30am - 10:09 am 1st-6th Grade Schedule: 7:30am- 11:40 am // Solo un recordatorio de que estaremos en un horario de día mínimo a partir de mañana martes 27 de septiembre - viernes 30 de septiembre para conferencias de padres y maestros. Horario de TK y Kínder: 7:30 a. m. - 10:09 a. m. Horario de 1° a 6° grado: 7:30 a. m. a 11:40 a. m.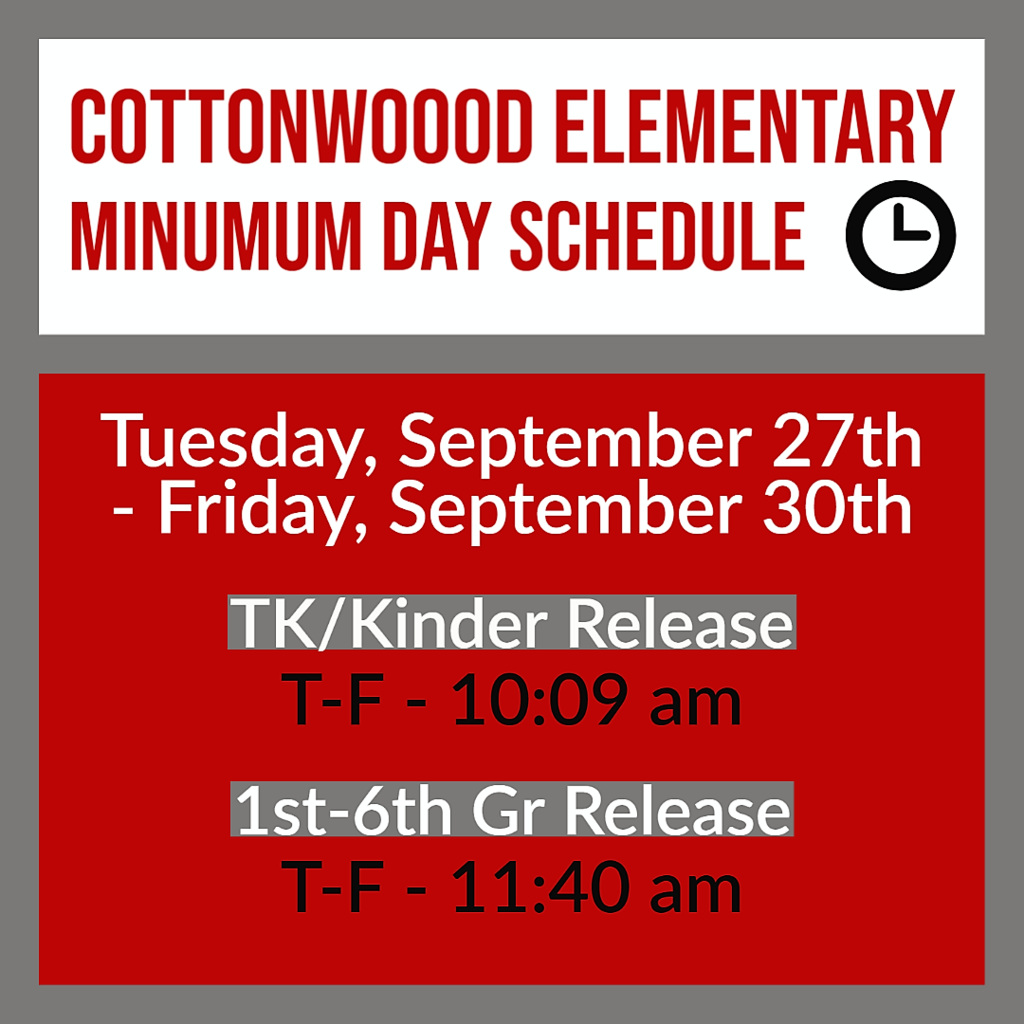 Good morning Coyotes! Today is a REGULAR schedule day for our school. Dismissal is 1:47 pm. Minimum day schedule begins tomorrow. Have a great week and we look forward to seeing you for Parent-Teacher Conferences! // ¡Buenos días Coyotes! Hoy es un día de horario REGULAR para nuestra escuela. La salida es a las 1:47. El horario modificado comienza mañana. ¡Que tengan una excelente semana y esperamos verlos en las conferencias de padres y maestros!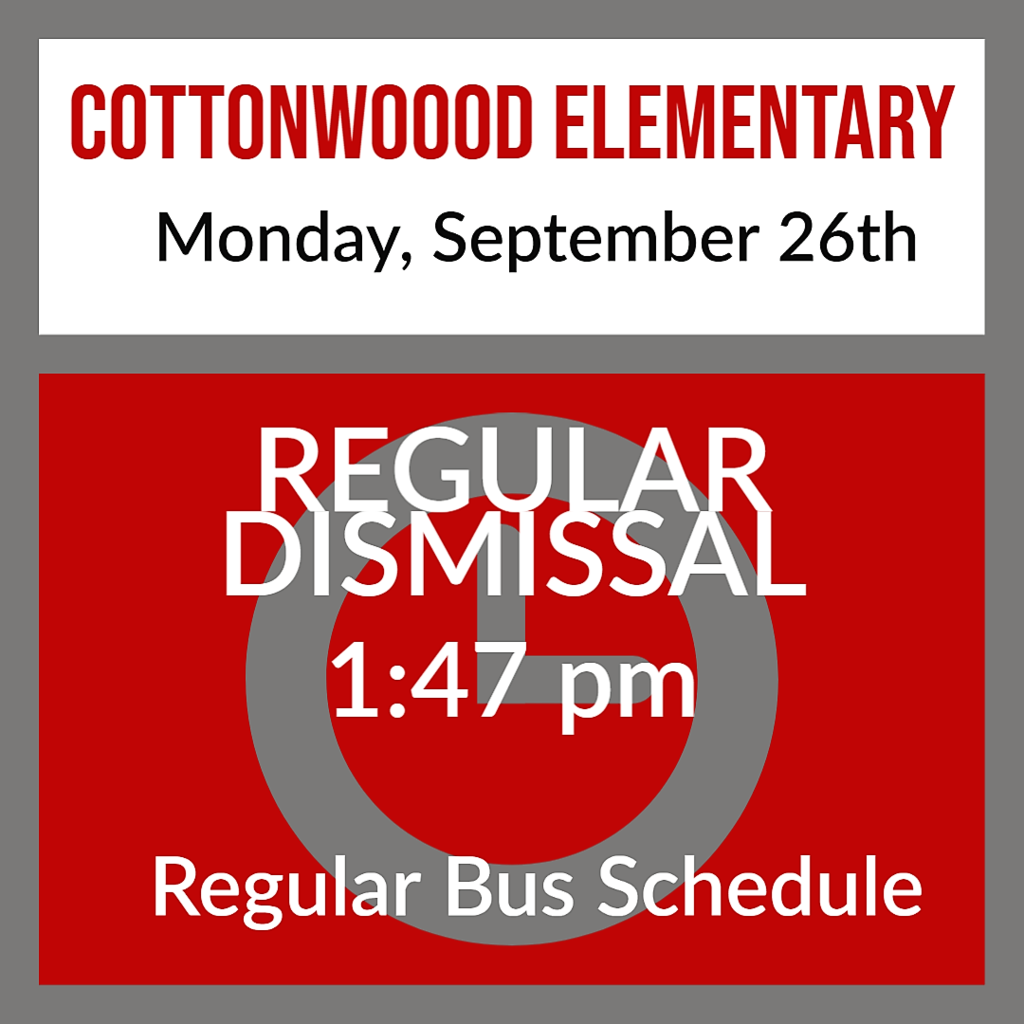 Parent-teacher conferences are coming next week! Monday, 9/26 will be a regular schedule day of 7:30 am-1:47 pm. Tuesday, September 27th - Friday, September 30th will be a minimum day schedule. School starts at 7:30 and will end at 10:09 am for TK/Kinder and 11:40 am for grades 1st-6th. If you still need to schedule a parent conference, contact your teacher to schedule a time. // ¡Las conferencias de padres y maestros son la próxima semana! El lunes 26/9 será un día de horario regular de 7:30 am-1:47 pm. El martes 27 de septiembre al viernes, 30 de septiembre será un horario de día mínimo. La escuela comienza a las 7:30 y terminará a las 10:09 am para TK/Kinder ya las 11:40 am para los grados 1° a 6°. Si aún necesita programar una conferencia con los padres, comuníquese con su maestro para programar una hora.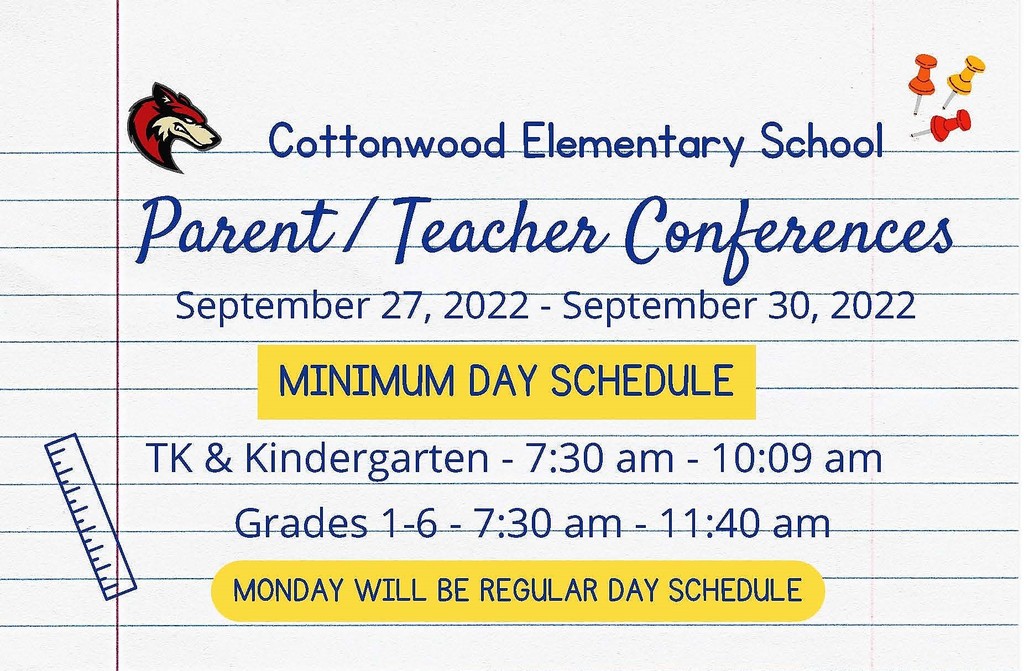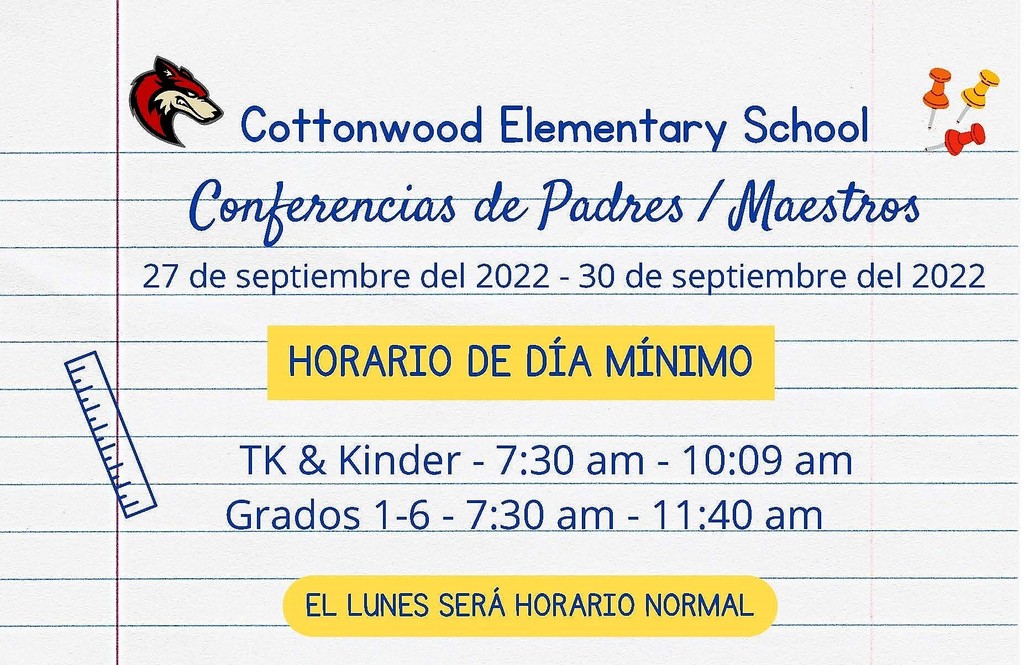 Happy Friday families! We are still hiring for a 3 hour proctor at Cottonwood. You can apply at edjoin.org. Please click the link for the job description.
https://bit.ly/3BujpRE
¡Feliz viernes familias! Todavía estamos contratando para un supervisor de 3 horas en Cottonwood. Puede presentar su solicitud en edjoin.org. Por favor, haga clic en el enlace para la descripción del trabajo.
https://bit.ly/3BujpRE
Hello Cottonwood Families- We had a successful code red drill today. Everyone did a great job! Have a great weekend. Hola familias de Cottonwood: tuvimos un simulacro de código rojo exitoso hoy. ¡Todos hicieron un gran trabajo!Ten un excelente fin de semana.

Coyote Families - Don't wait until it's too late! Turn in your Coyote Spirit Wear order forms by this Friday to get your Cottonwood gear. Orders can be submitted to the front office with a complete form and cash or check for items. Remember, Fridays are Spirit Days & we love to see our school pride on campus! #ItsCottonwood #CoyoteStrong Familias Coyote - ¡No esperen hasta que esta muy tarde! Entregue sus formularios de pedido de Coyote Spirit Wear antes de este viernes para obtener su artículos de Cottonwood. Los pedidos se pueden enviar a la oficina con un formulario completo y dinero en efectivo o cheque para artículos. ¡Recuerde, los viernes son días de espíritu y nos encanta ver el orgullo de nuestra escuela en el campus! #ItsCottonwood #CoyoteStrong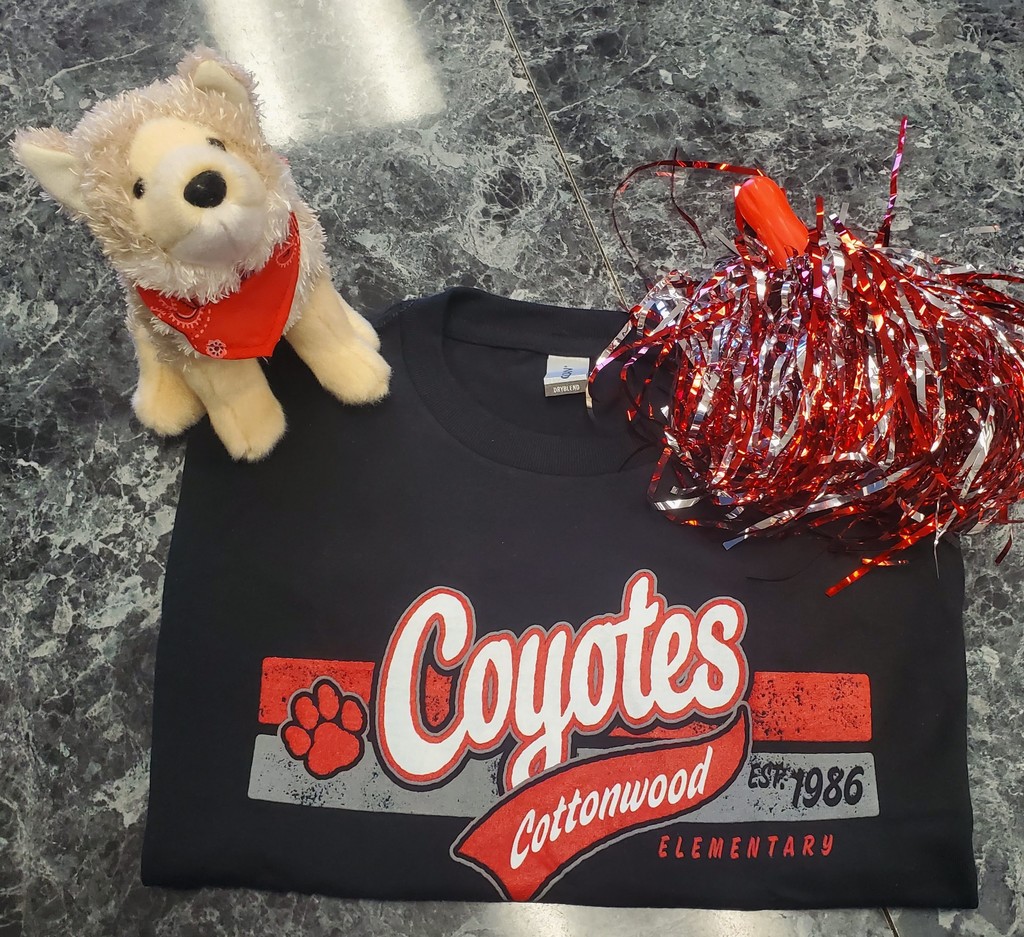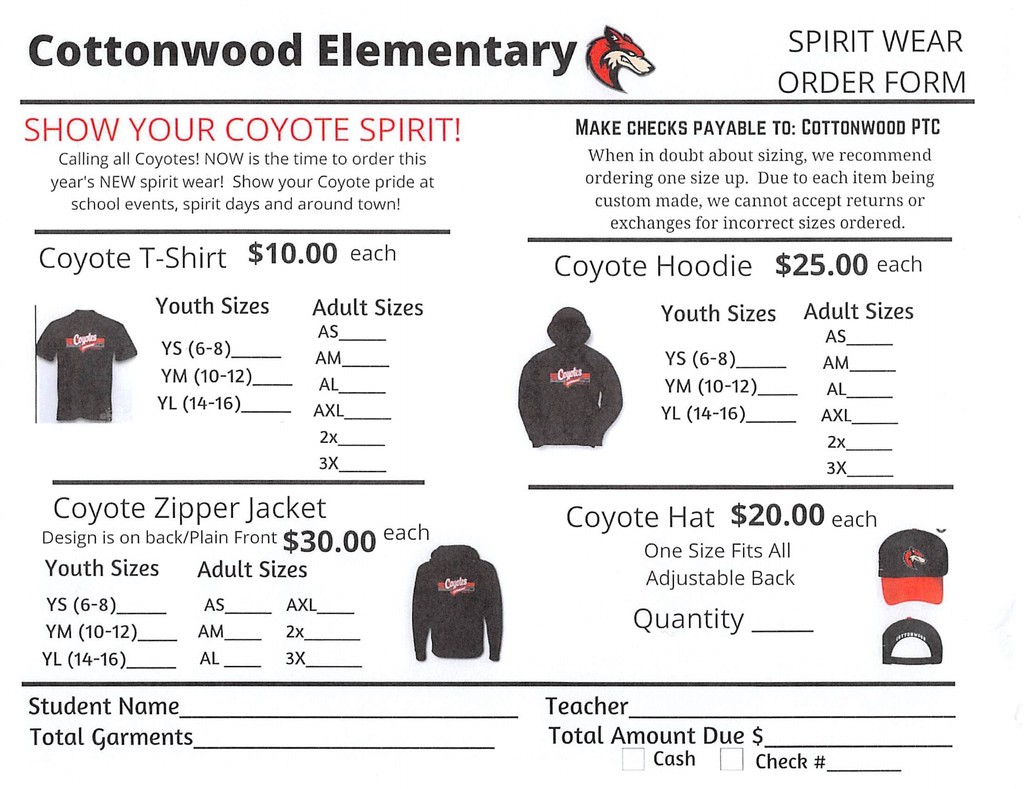 Your child's school attendance matters however, we realize it may not be possible to be in school every day. If you need to report an absence, please call the school office at 760-949-1390 and PRESS #1. Leave a message with your name, your child's name, the date(s) they were absent and the reason why. All messages will be heard by the end of the day & the student's attendance will be updated. Thank you for your cooperation!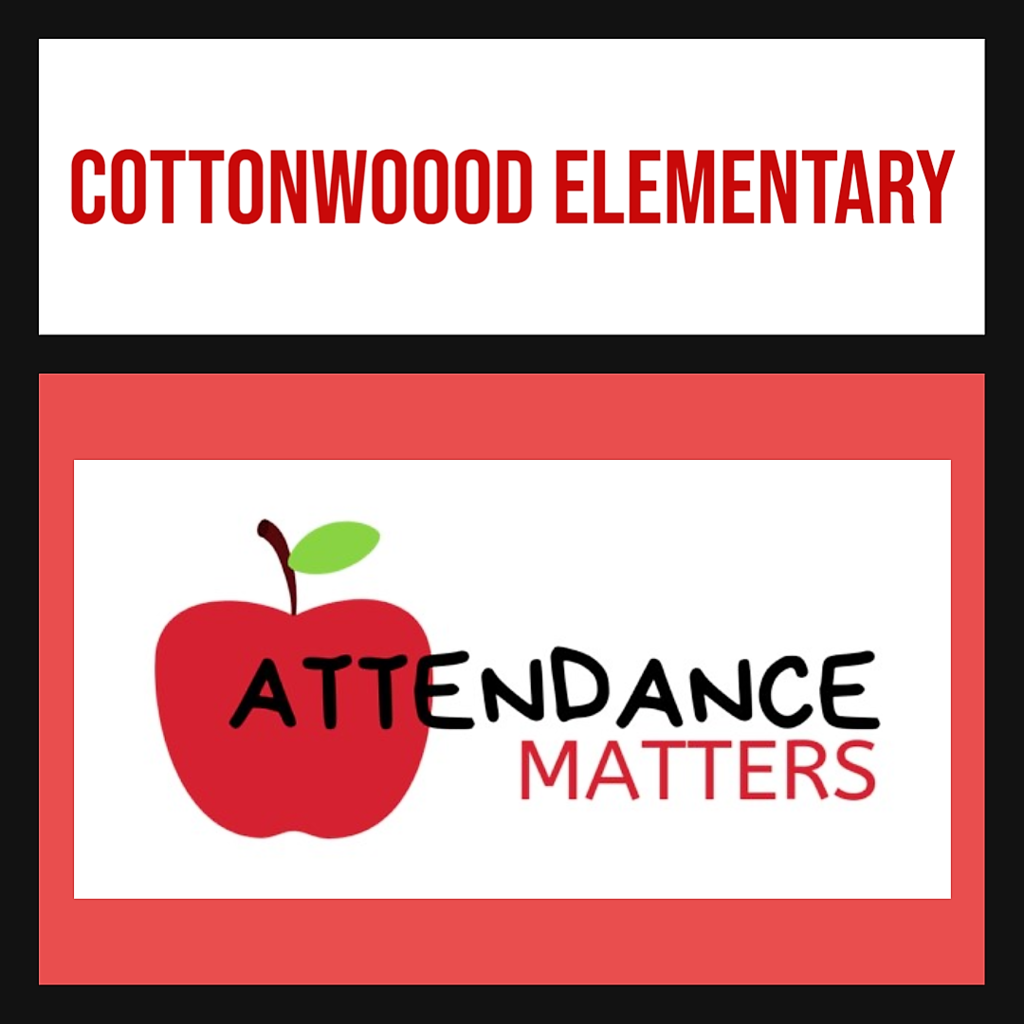 Cottonwood parents: Please vote for our next School Site Council members. Voting will close on Friday, September 9 at 3:00 pm. Click on the link to access the ballot. bit.ly/3AZHXkT Padres de Cottonwood: voten por nuestros próximos miembros del Consejo Escolar. La votación se cerrará el viernes 9 de septiembre a las 3:00 pm. Haga clic en el enlace para acceder a la boleta. bit.ly/3AZHXkT
Hello Cottonwood Families- Tomorrow Friday, Sept. 2, we will have a high number of police vehicles from Hesperia School Police on campus. Please do not be alarmed. They are having a meeting. Have a great evening! Hola familias de Cottonwood: mañana viernes, 2 de septiembre, tendremos una gran cantidad de vehículos policiales de la Policía Escolar de Hesperia en el campus. Por favor no se alarme. Están teniendo una reunión. ¡Que tengas una buena tarde!

This is Mrs. Johnson, who has been on staff at Cottonwood for 8 years. #CWSimplyTheBest #FacesOfCottonwood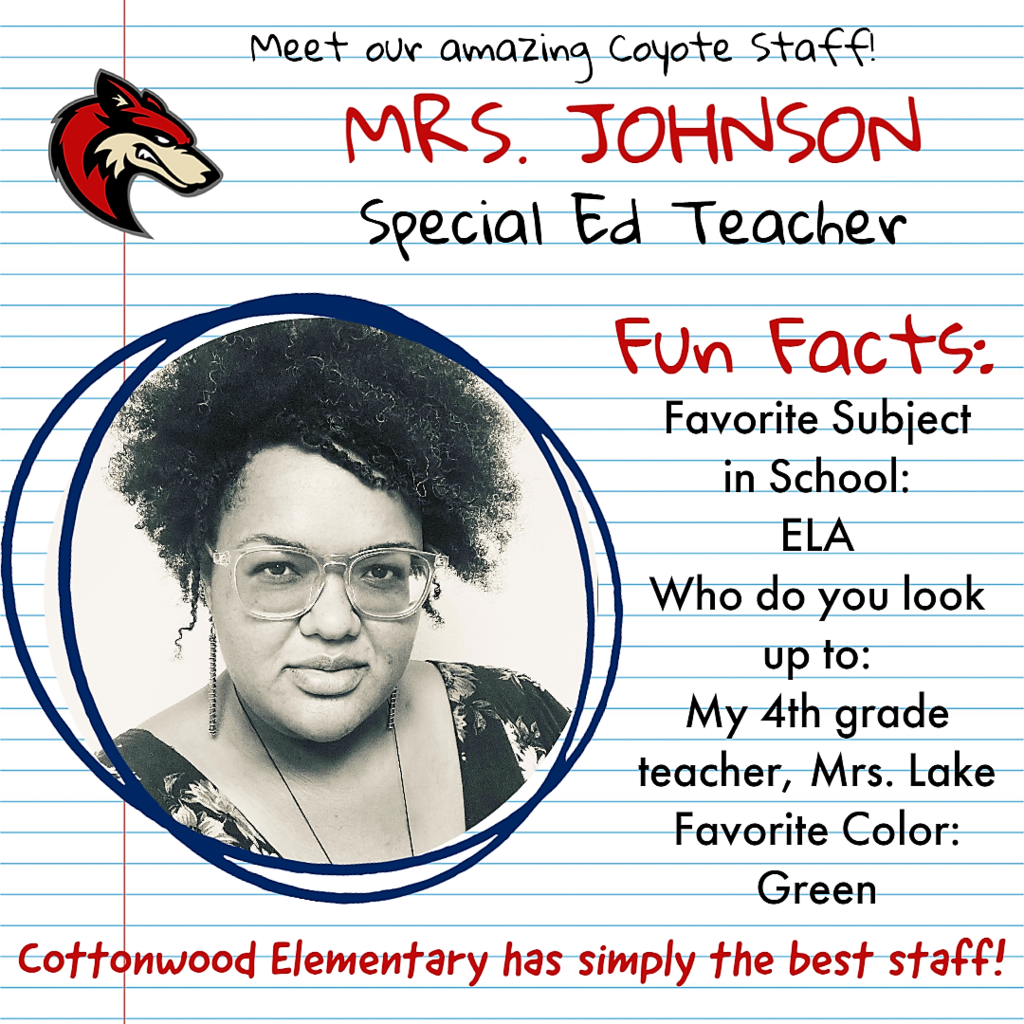 Good evening Cottonwood families. Beginning tomorrow through next Monday, the High Desert will be under an excessive heat warning. We will monitor the conditions and adjust outdoor activities as needed. We ask that you please send your child to school in lightweight, light-colored clothing, send some extra water with them to school, and encourage your child to stay in shaded areas when outdoors. Feel free to contact the school office with any questions or concerns. Have a wonderful week! Buenas noches familias de Cottonwood. Desde mañana hasta el próximo lunes, High Desert estará bajo una advertencia de calor excesivo. Supervisaremos las condiciones y ajustaremos las actividades según sea necesario. Le pedimos que envíe a tu hijo a la escuela con ropa fresca, envíe un poco de agua adicional a la escuela y anime a su hijo a permanecer en áreas sombreadas cuando esté al aire libre. No dude en ponerse en contacto con la oficina de la escuela con cualquier pregunta o inquietud. ¡Ten una maravillosa semana!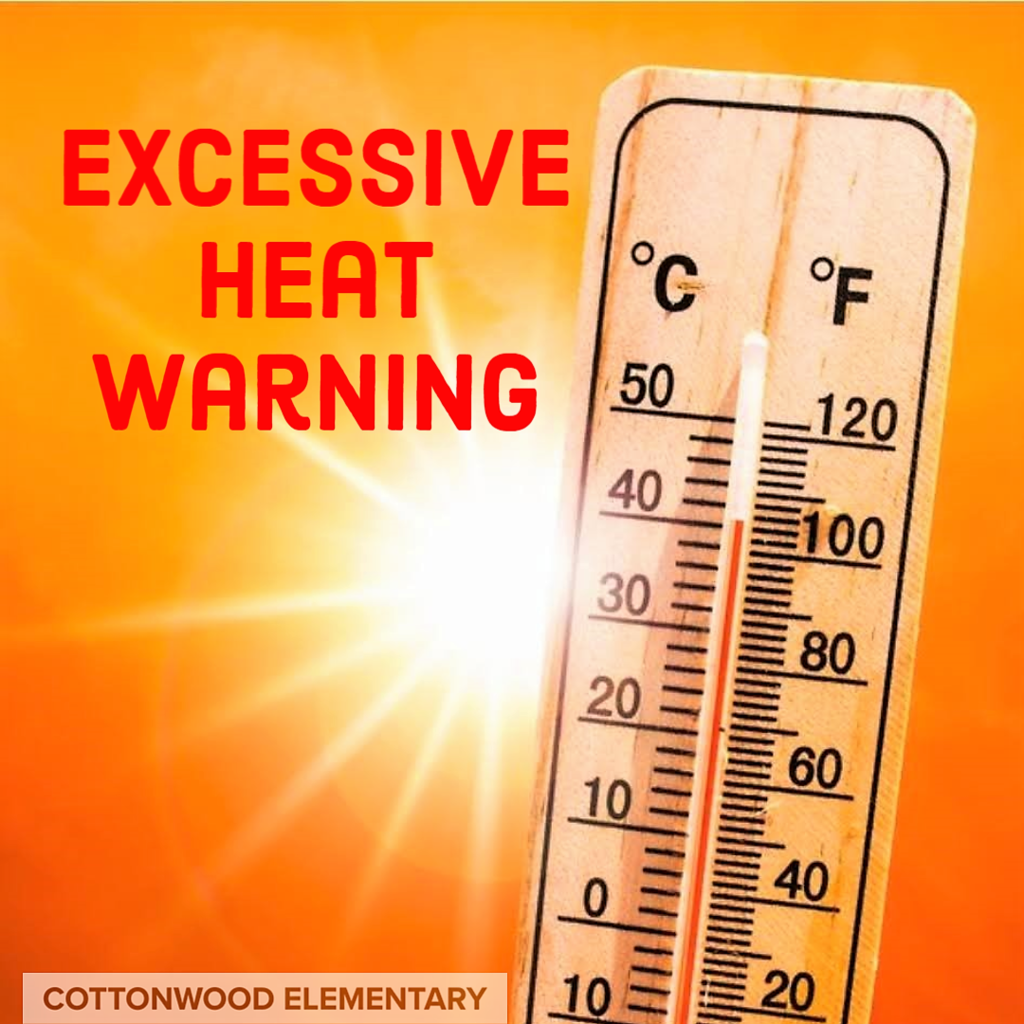 We had our first fire drill of the year this morning. The students did a great job and were listening for directions. Way to go Coyotes! Esta mañana tuvimos nuestro primer simulacro de incendio del año. Los estudiantes hicieron un gran trabajo y escucharon las instrucciones. ¡Así se hace Coyotes!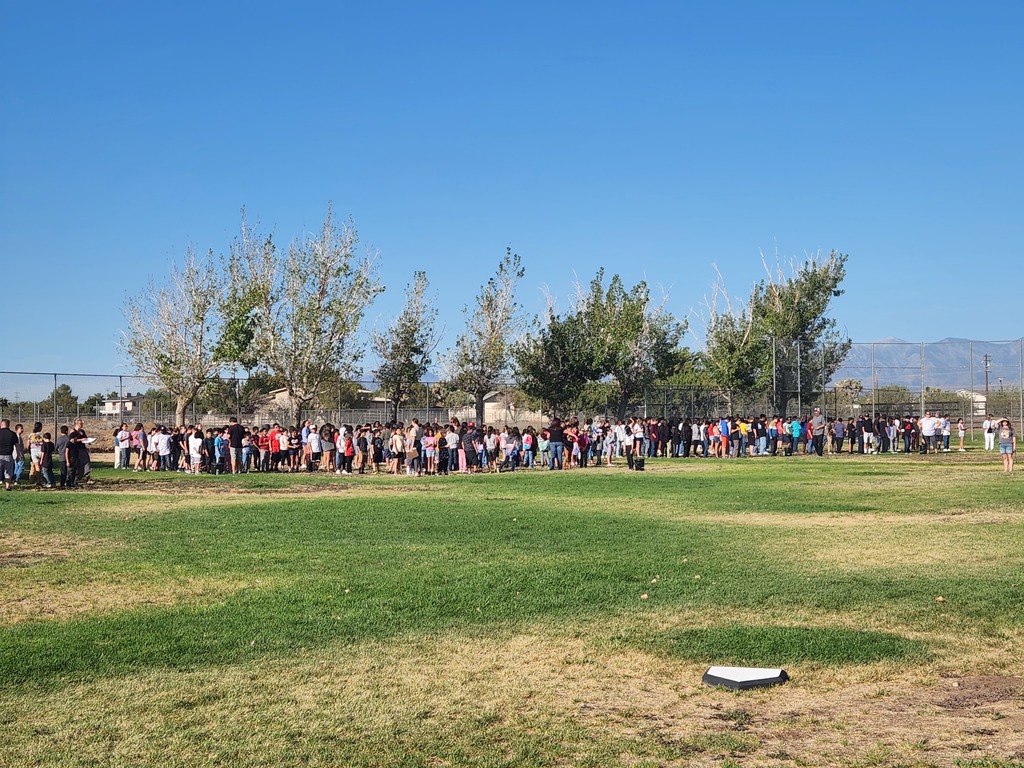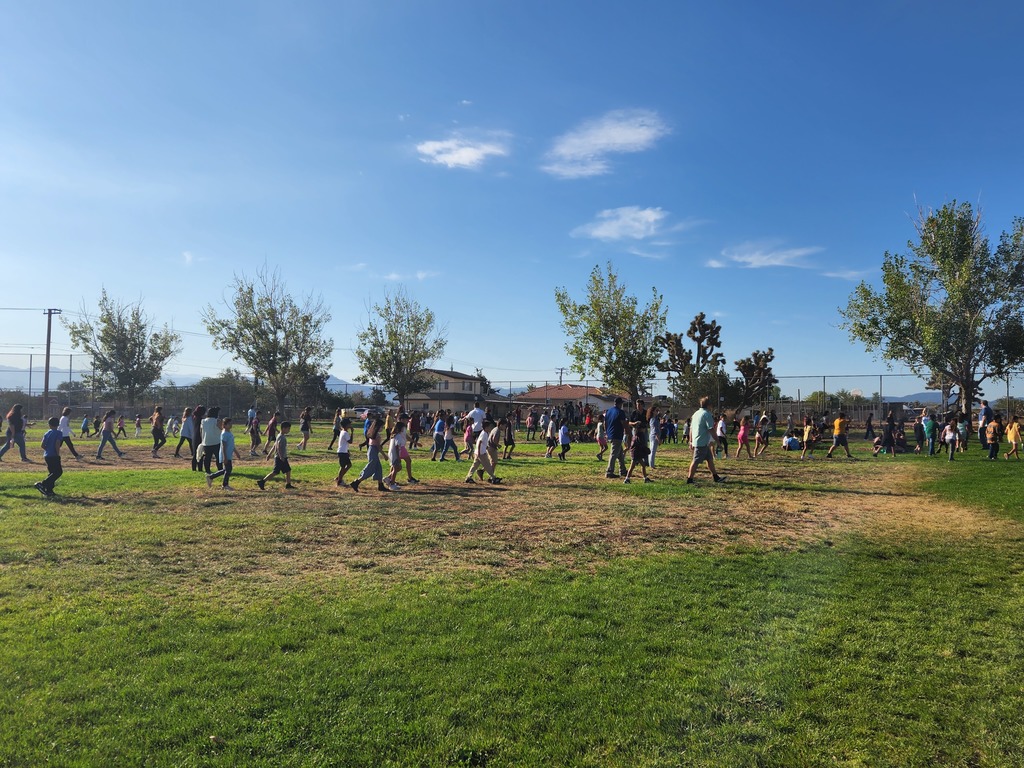 Attention Cottonwood parents!! We are looking for 2 parents to join our School Site Council. We will have four meetings this year to discuss school safety, school budgets and other important information. If you are interested, please email a short biography to
Renee.Singer@hesperiausd.org
by Wednesday, August 31st. Voting will begin September 2nd. Your dedication to the success of our school is much appreciated! ¡¡Atención padres de Cottonwood!! Estamos buscando 2 padres para unirse a nuestro Consejo Escolar. Tendremos cuatro reuniones este año para discutir la seguridad escolar, los presupuestos escolares y otra información importante. Si está interesado, envíe una breve biografía por correo electrónico a
Renee.Singer@hesperiausd.org
antes del miércoles 31 de agosto. La votación comenzará el 2 de septiembre. ¡Su dedicación al éxito de nuestra escuela es muy apreciada!
Hello Coyote Families- For students who are picked up in our car pick up line numbers went home today. Please check your student(s) backpack for your car decal. Students should have their number on their backpack so that it is easily visible by staff. Thank you and have a great evening. Hola familias de Coyote: para los estudiantes que son recogidos en nuestro automóvil, los números de línea de recogida se fueron a casa hoy. Por favor revise la mochila de su(s) estudiante(s) para ver si tiene la calcomanía de su carro. Los estudiantes deben tener su número en su mochila para que el personal lo pueda ver fácilmente. Gracias y que tengas una gran noche.

Cottonwood families! Save the date because picture day is right around the corner. Order forms will be sent home soon. Stay tuned! // ¡Familias de Cottonwood! El día de la foto llegará pronto. Vamos a mandar los formularios para ordenar photos muy pronto.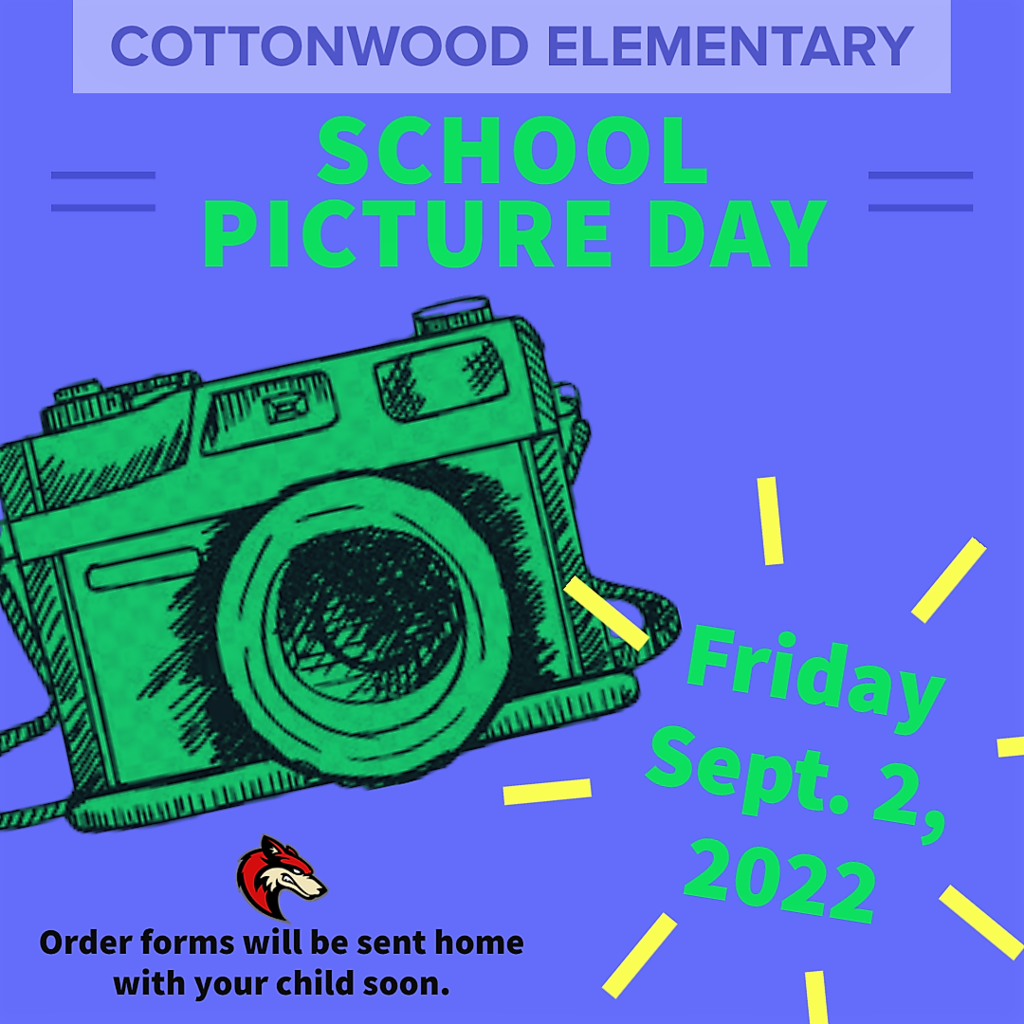 Good afternoon Cottonwood families. Your child's safety is a top priority for us. This is a reminder that any student who needs to cross the street must do so at a crosswalk. It is extremely unsafe for parents and children to cross the street in between traffic, other cars and/or parking lots. We would appreciate your help in encouraging your child to obey all traffic laws. Also, if your student is designated as a walker, this is so they may walk home and not intended for them to be picked up by an adult in a car. If you would like to change your child's dismissal, please visit the school office to do so. Have a safe and enjoyable weekend.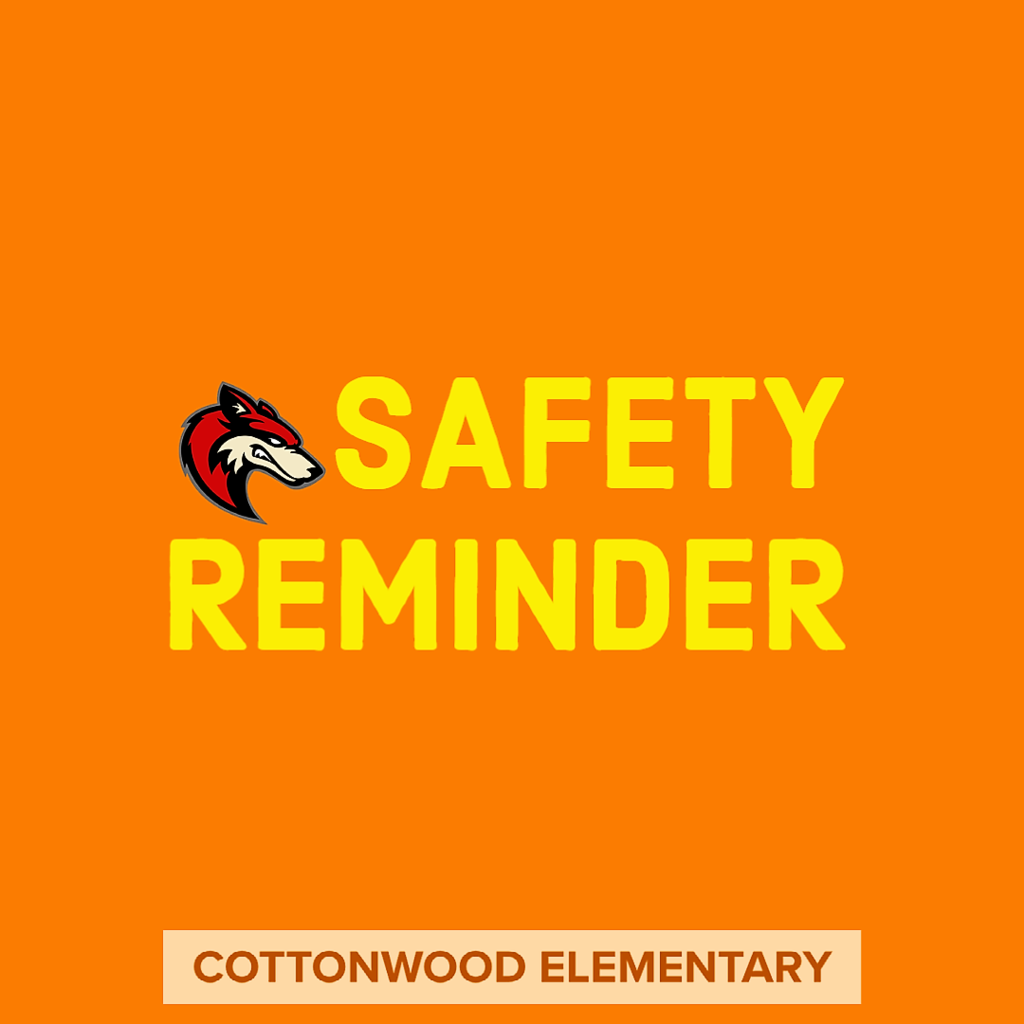 The Affordable Connectivity Program (ACP) is a new federal program that helps low income families afford the cost of having internet service at home. More information about the program can be found here:
https://5il.co/1fy5h