Join us at our next AAPAC meeting on March 16th from 4-6pm either in-person or via live stream for presentations on "Striving for Black Excellence in Academics." Topics will include: What it means to be a college and career-ready graduate, A-G opportunities, AVID, Dual Enrollment & Early College Academy, CTE, and much more! All are welcome to attend! We hope to see you there! For more info:
https://5il.co/1qmky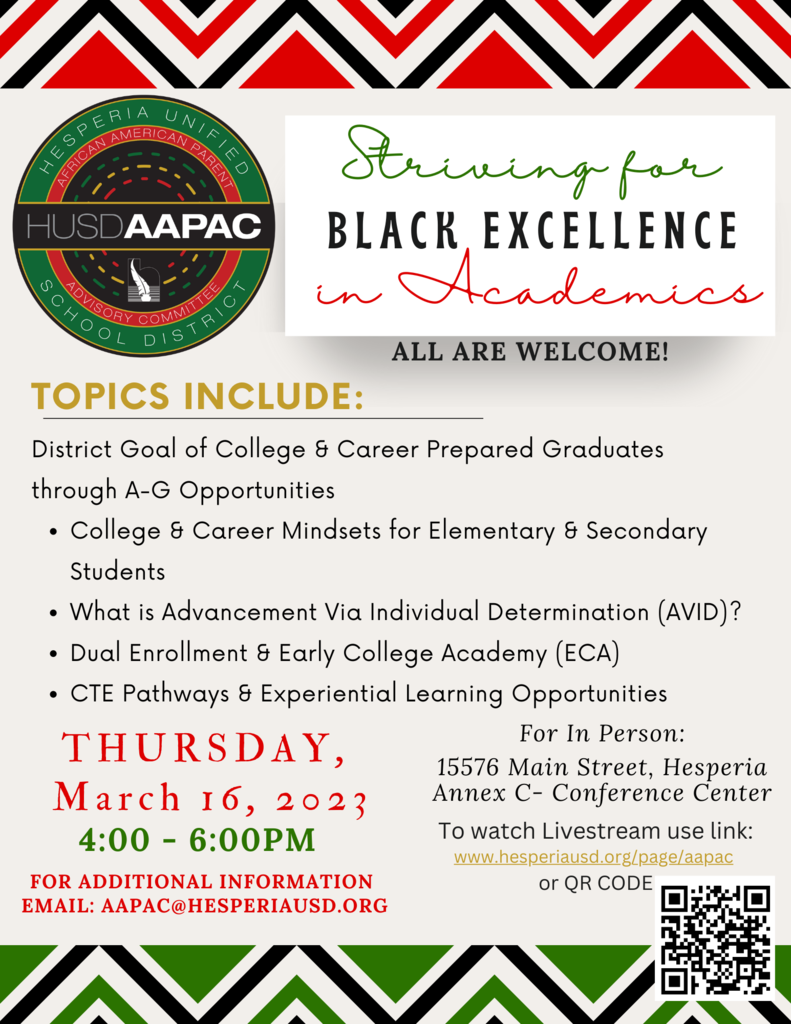 Who's excited for the upcoming parent and student events? WE ARE! It's not too late to purchase your tickets. They are available in the office, cash only. Don't miss it!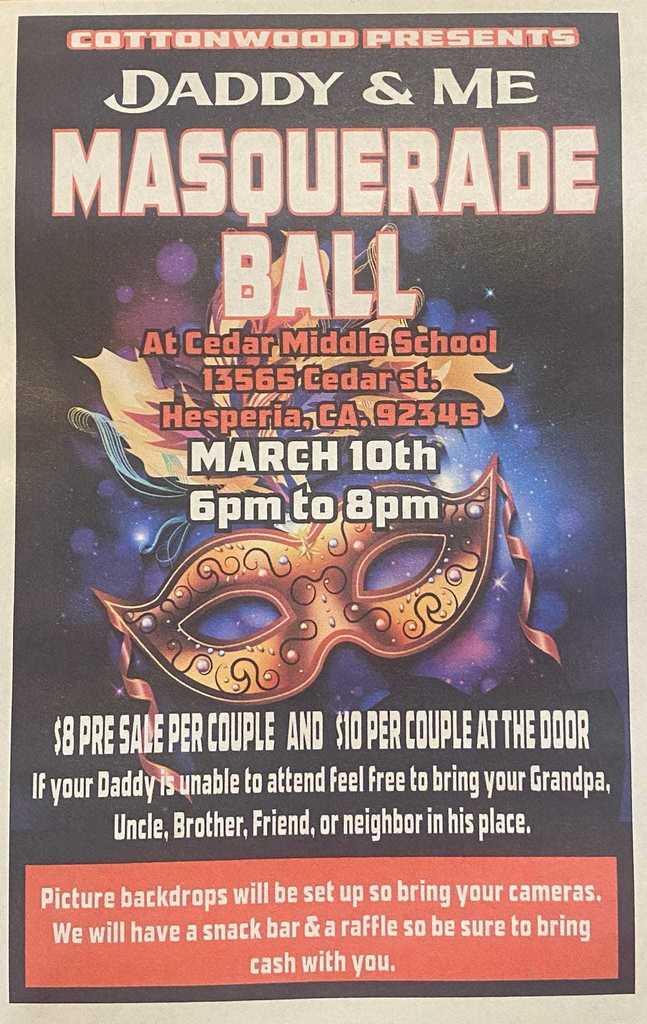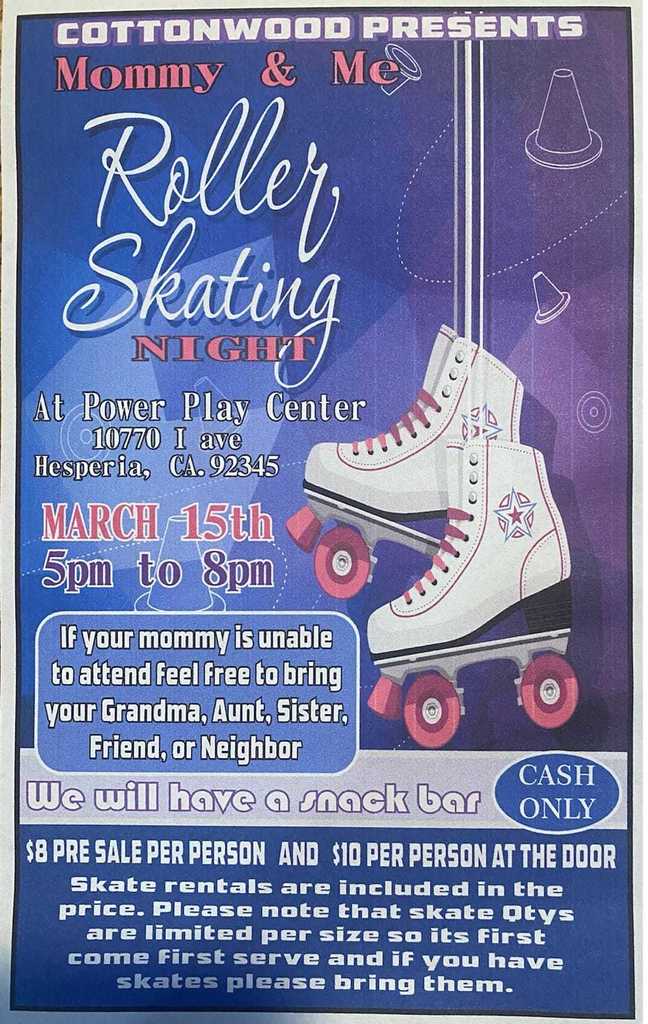 We're hiring! Stop by and check out our job/teacher fair on March 7th and 9th from 4PM-7PM.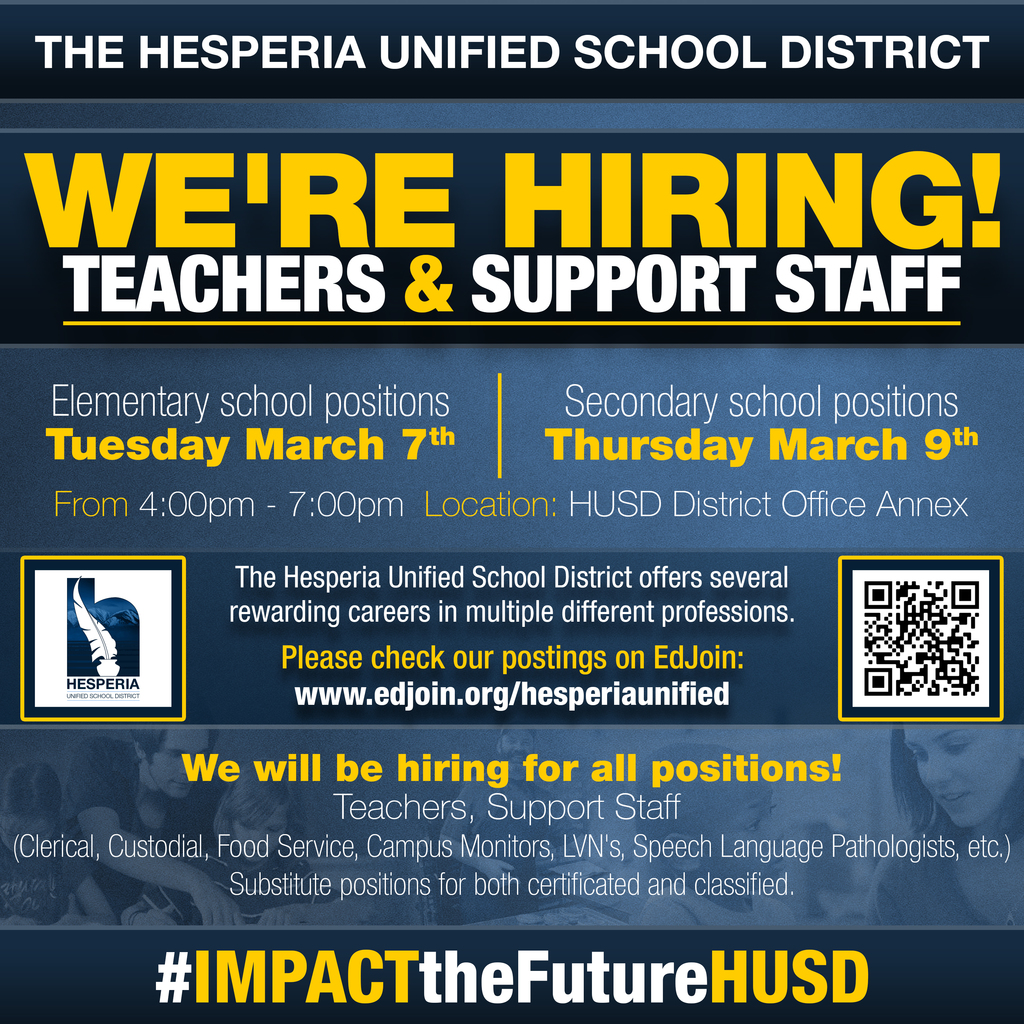 We are aware of the snow in Hesperia and the surrounding areas. Students are safely in class, all schools are currently open and will continue under their normal bell schedules; however, we are working to help keep students indoors as much as possible. The weather service predictions are that the snow will clear at midday. We will continue to monitor the situation and road conditions and respond accordingly. If any changes are made we will communicate those changes to the community. In the absence of any further announcements, schools will remain open and dismiss at their normal times. We ask parents to plan for extra time when picking students up and to be as patient as possible as we all deal with the winter weather.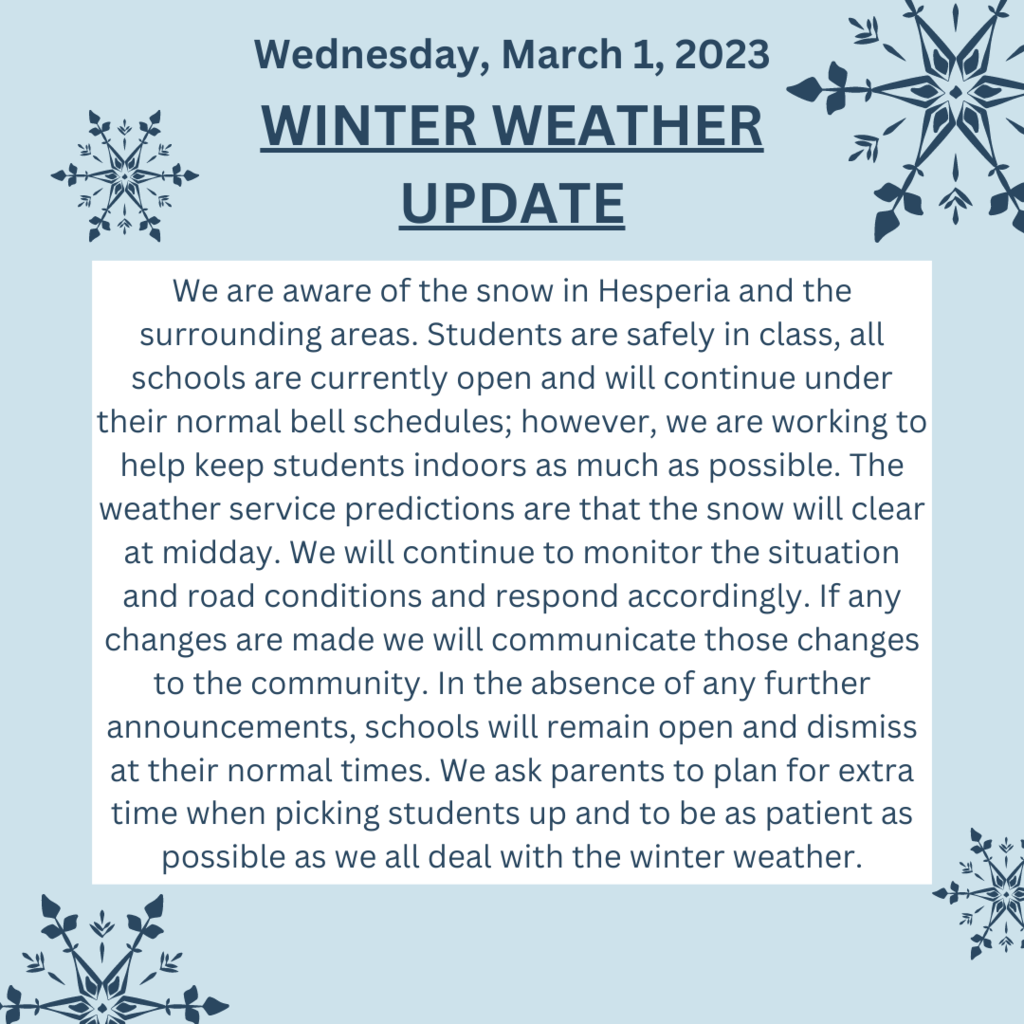 All HUSD school sites will be open today Friday, February 24, 2023.

Due to the current weather conditions and the incoming storm, we are going to reschedule the African American Parent Advisory Committee (AAPAC) meeting on February 23rd to March 16th at 4:30 pm here at the District Office and via live stream. We have an amazing group of presenters scheduled to attend and provide information and resources around helping students become college and career-ready graduates. We can't wait to see you on March 16th!

We're hiring! Stop by and check out our job/teacher fair on March 7th and 9th from 4PM-7PM.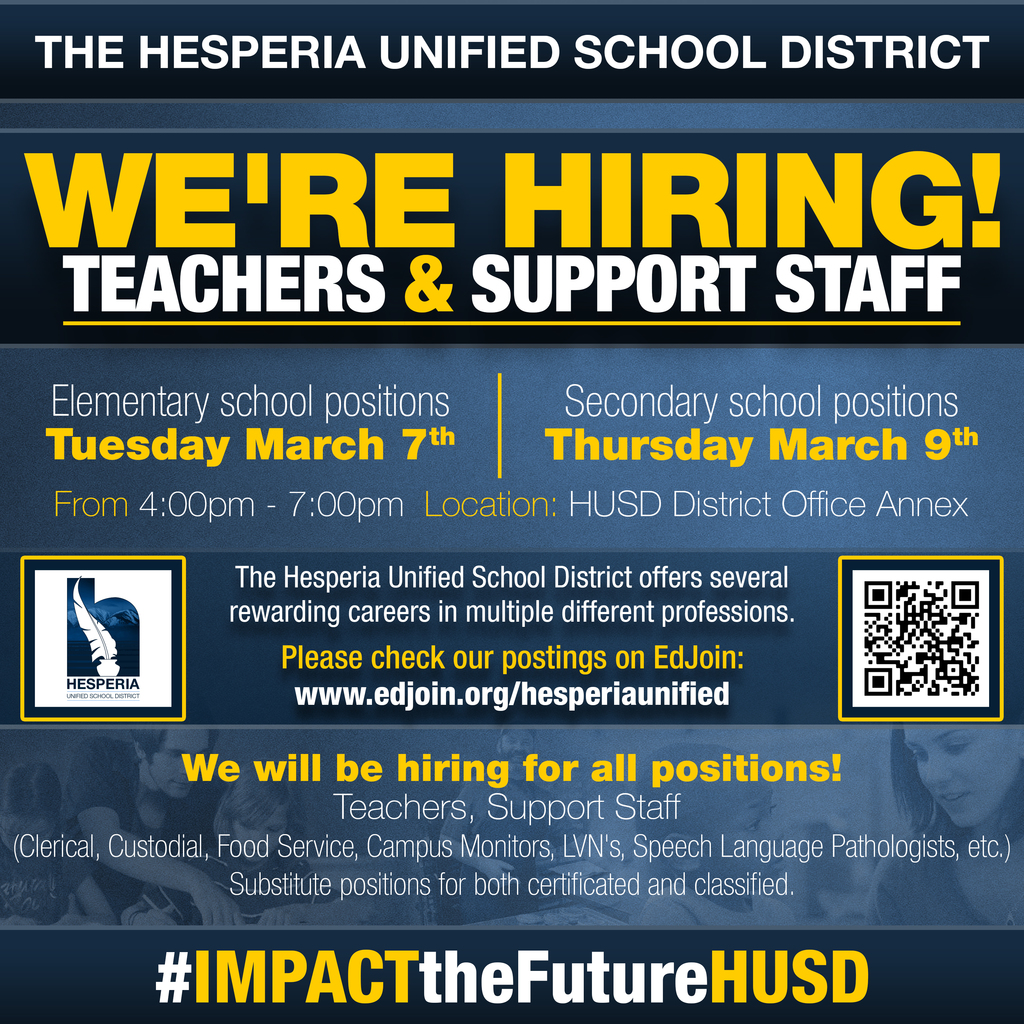 We're hiring! Stop by and check out our job/teacher fair on March 7th and 9th from 4 PM - 7 PM.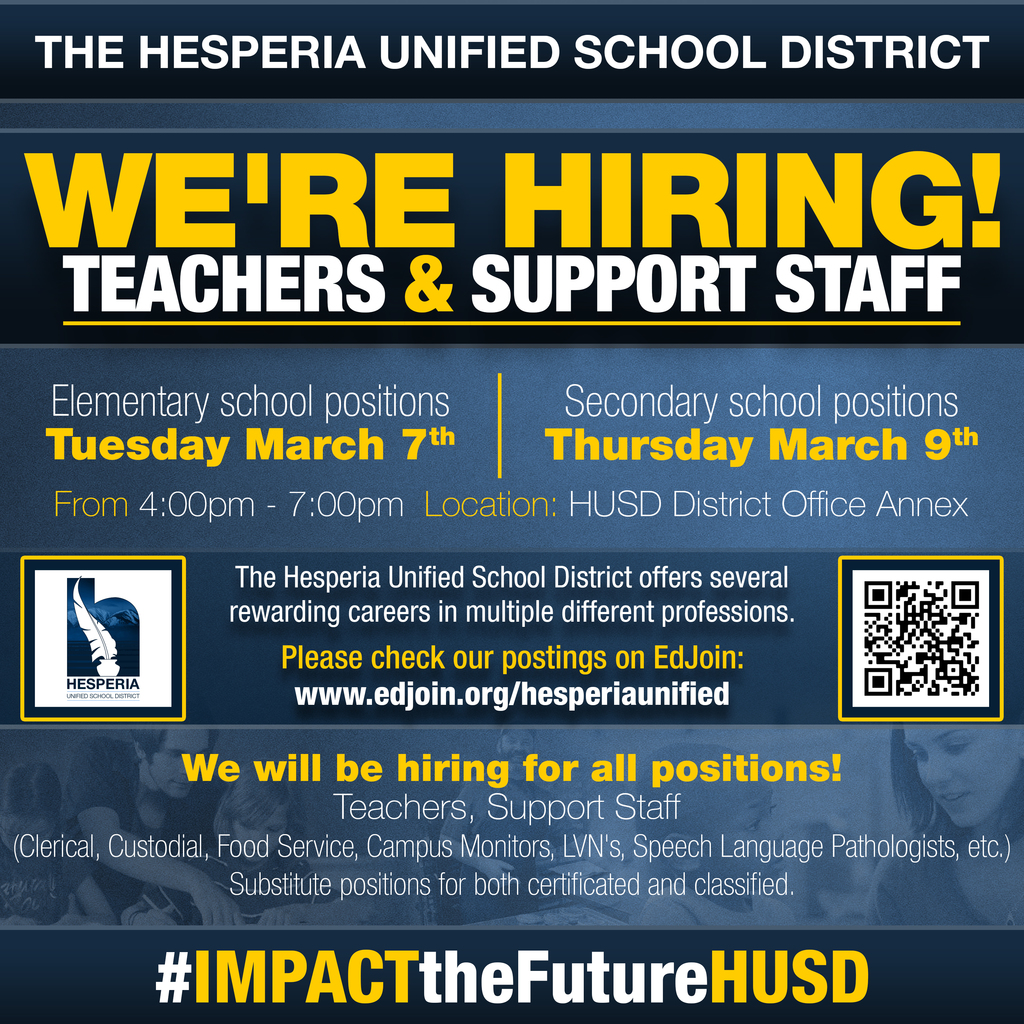 Last Call! 🐾 📣 We're still accepting orders for Cottonwood Coyote Spirit wear through Friday, 2/3. This is the last order for the 22-23 school year. If you have any questions, please call the office at 760-949-1390. #itsCottonwood // ¡Última llamada! 🐾 📣 Todavía estamos aceptando pedidos de ropa Cottonwood Coyote Spirit hasta el viernes 2/3. Este es el último pedido para el año escolar 22-23. Si tiene alguna pregunta, llame a la oficina al 760-949-1390.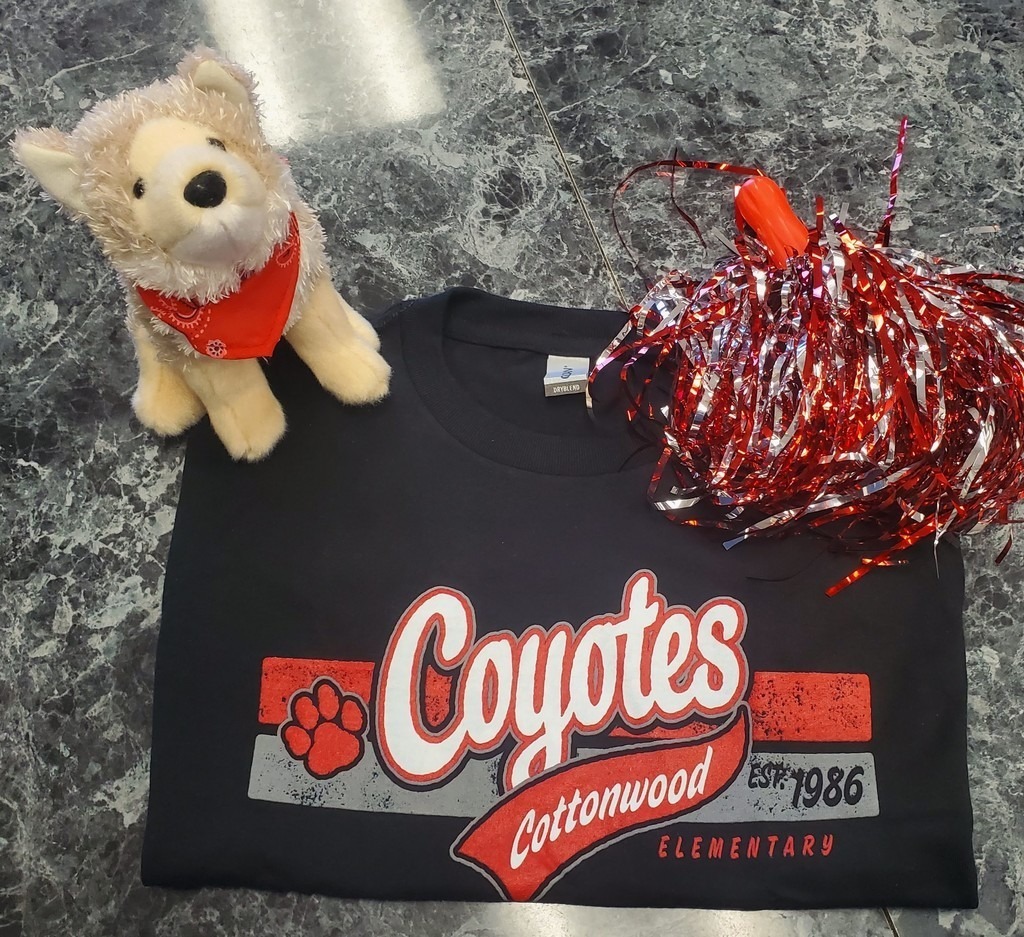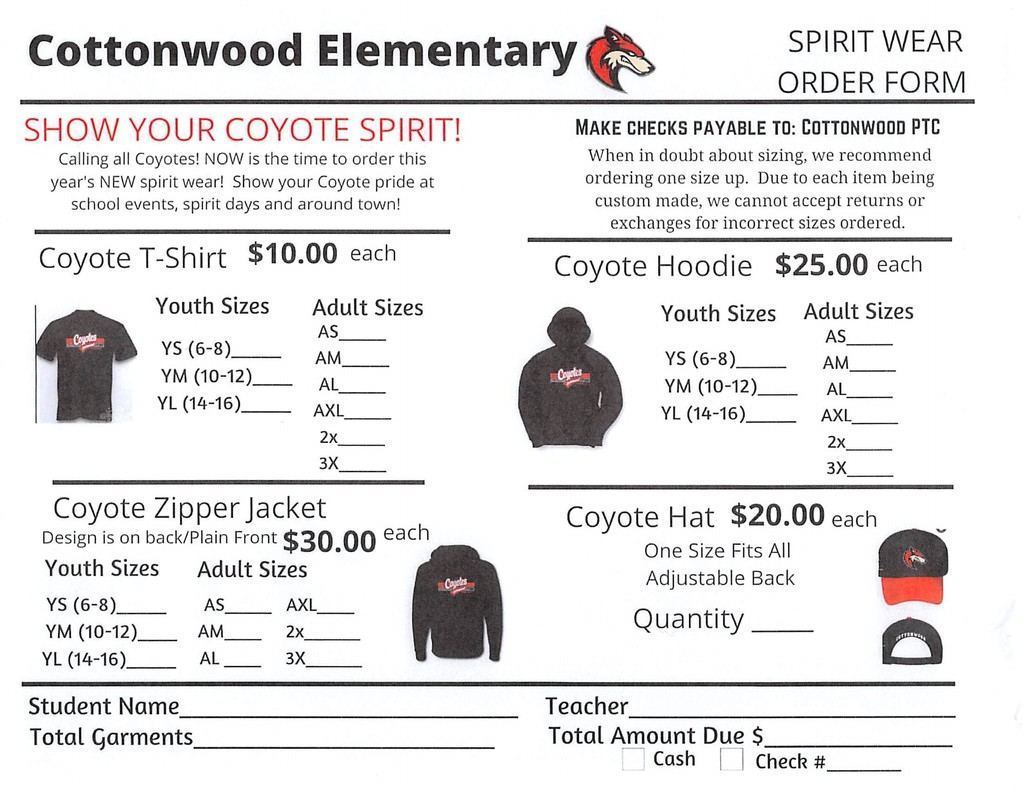 Hola, soy la Sra. Singer, directora de la escuela primaria Cottonwood, con información sobre un problema en el campus hoy. Aproximadamente a las 11 am, un vehículo se salió del camino al lado de la escuela y chocó contra la cerca de la escuela cerca de los campos de césped. Los estudiantes estaban en clase en este momento, ningún estudiante o personal estaba cerca de los campos de césped donde ocurrió el accidente, no hubo heridos y el único daño fue en la cerca que fue golpeada por el vehículo. Después de la colisión, el adulto que conducía el vehículo se estacionó en el arcén de la carretera adyacente al campus. El personal de la escuela se comunicó de inmediato con la policía y colocó a la escuela en un cierre muy breve para ser lo más cauteloso posible. La Policía Escolar Unificada de Hesperia estuvo en el lugar en minutos y se ocupó de la situación de manera adecuada. Una vez que la policía estuvo en la escena y se aseguró la seguridad general del campus, se levantó el cierre. El equipo de Mantenimiento y Operaciones del Distrito Escolar Unificado de Hesperia estuvo en el lugar en una hora y actualmente está trabajando para reparar la cerca dañada. Quisiera agradecer a los oficiales de policía escolar del Distrito Escolar Unificado de Hesperia y al personal de Cottonwood por su rápida respuesta y por poner siempre la seguridad del campus en primer lugar. Gracias y que tengas un buen día.

Hello, this is Ms. Singer the Principal at Cottonwood elementary school with an information about an issue on campus today. At approximately 11 am a vehicle veered off the road next to the school and struck the school fence near the grass fields. Students were in class at this time, no students or staff were near the grass fields where the accident took place, there were no injuries and the only damage was to the fence that was struck by the vehicle. After the collision, the adult driving the vehicle parked on the shoulder of the road adjacent to campus. School staff immediately contacted law enforcement and placed the school on a very brief lockdown to be as cautious as possible. The Hesperia Unified School Police were on the scene in minutes and appropriately dealt with the situation. Once the Police were on scene and overall campus safety was ensured the lockdown was lifted. The Hesperia Unified School District Maintenance and Operations team were on site within the hour and are currently working to repair the damaged fence. I would like to thank the Hesperia Unified School District School Police Officers and the Cottonwood staff for their quick response and always putting campus safety first. ThankYou and have a great day.

Our FREE nutrition class series emphasizing the importance of physical activity, eating healthy and shopping on a budget will begin tomorrow. The Spanish class will begin at 9:00 am and the English class will begin at 10:30 am. If you have questions, please contact Evelyn Gonzalez. Nuestra serie de clases de nutrición GRATUITA que enfatiza la importancia de la actividad física, comer sano y comprar con un presupuesto comenzará mañana. La clase de español comenzará a las 9:00 am y la clase de inglés comenzará a las 10:30 am. Si tiene preguntas, comuníquese con Evelyn González.

Good evening parents. When dropping students off in the morning, please maintain one line until you reach the parking lot. We cannot block the street for regular traffic. Please choose a lane to enter the parking lot. Thank you! Buenas noches padres. Cuando deje a los estudiantes por la mañana, mantenga una fila hasta llegar al estacionamiento. No podemos bloquear la calle para el tráfico regular. Elija un carril para ingresar al estacionamiento. ¡Gracias!

We made it to Winter Break! This is our last day in school & it's a regular day for elementary students. Dismissal is at 1:47 pm. We return to school on January 9th. We wish you and your family have a wonderful & safe holiday season! // ¡Llegamos a las vacaciones de invierno! Este es nuestro último día de clases y es un día normal para los estudiantes de primaria. La salida es a las 1:47 pm. Regresamos a la escuela el 9 de enero. ¡Deseamos que usted y su familia tengan una temporada festiva maravillosa y segura!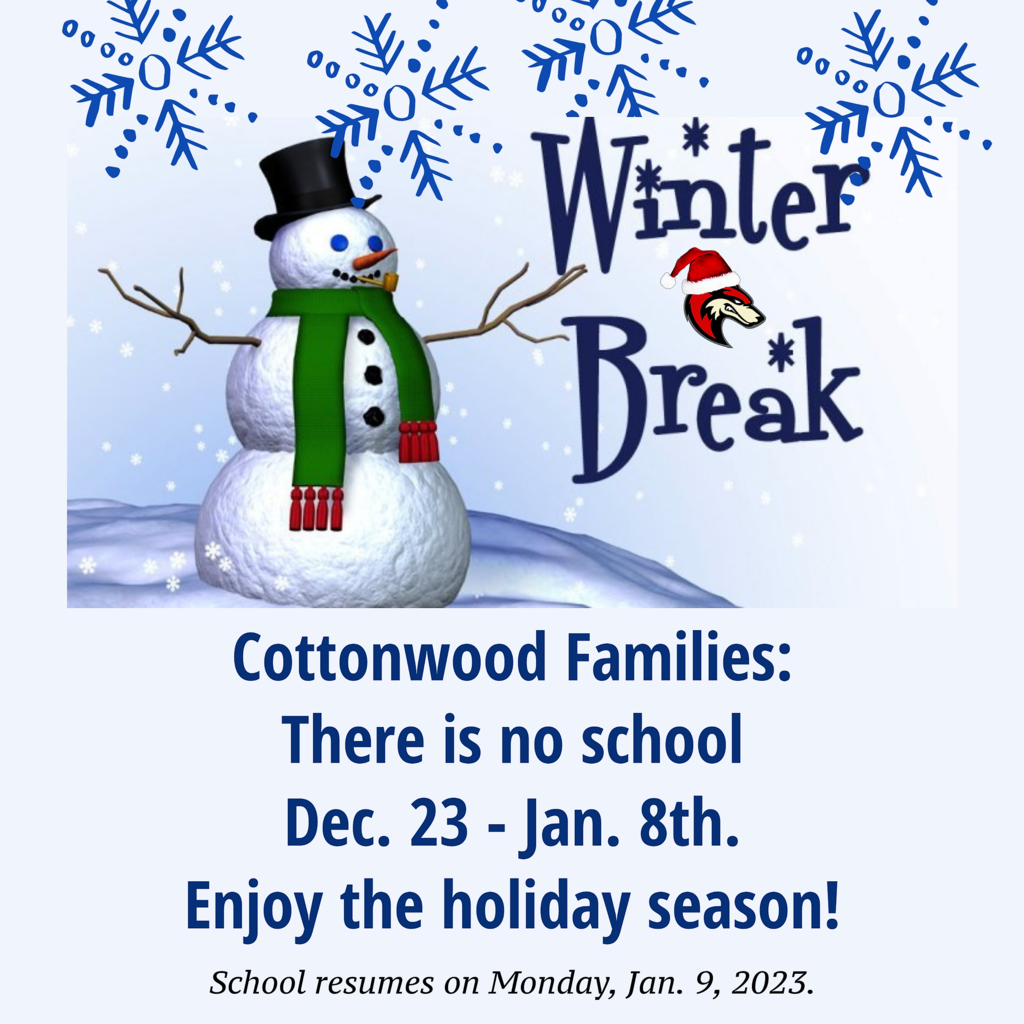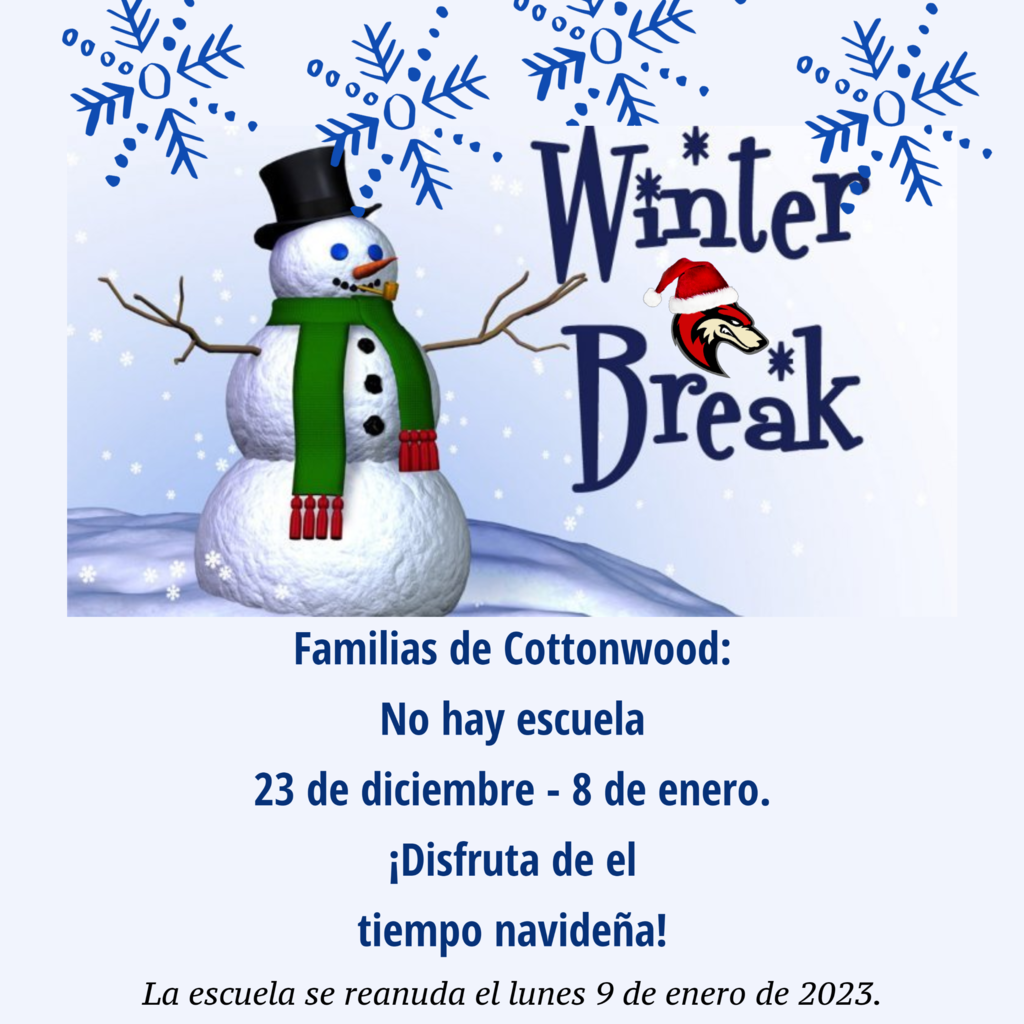 Just one more week until Winter Break! Our last day in school in December 22nd and it is regular day for elementary students. ¡Solo una semana más hasta las vacaciones de invierno! Nuestro último día de clases es el 22 de diciembre y es un día regular para los estudiantes de primaria. ¡Esperamos que tienen un maravilloso fin de semana!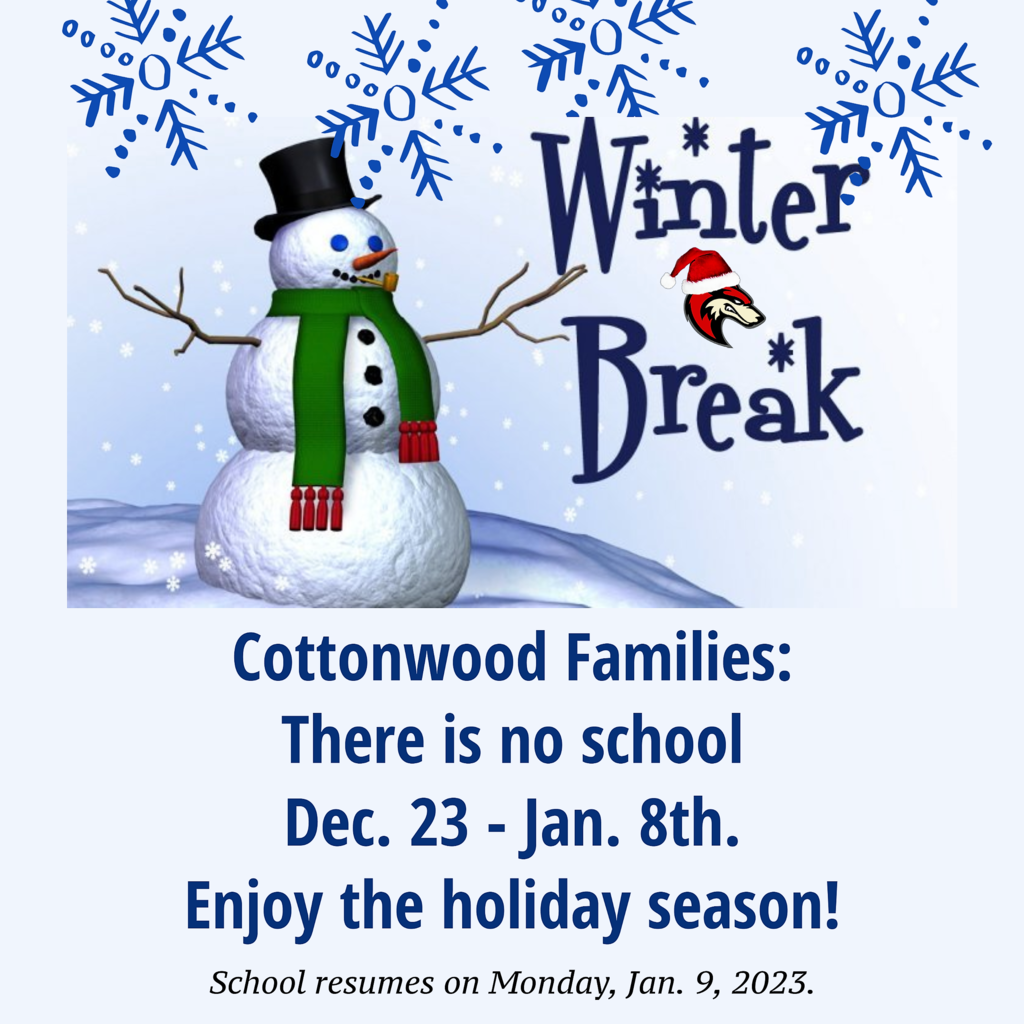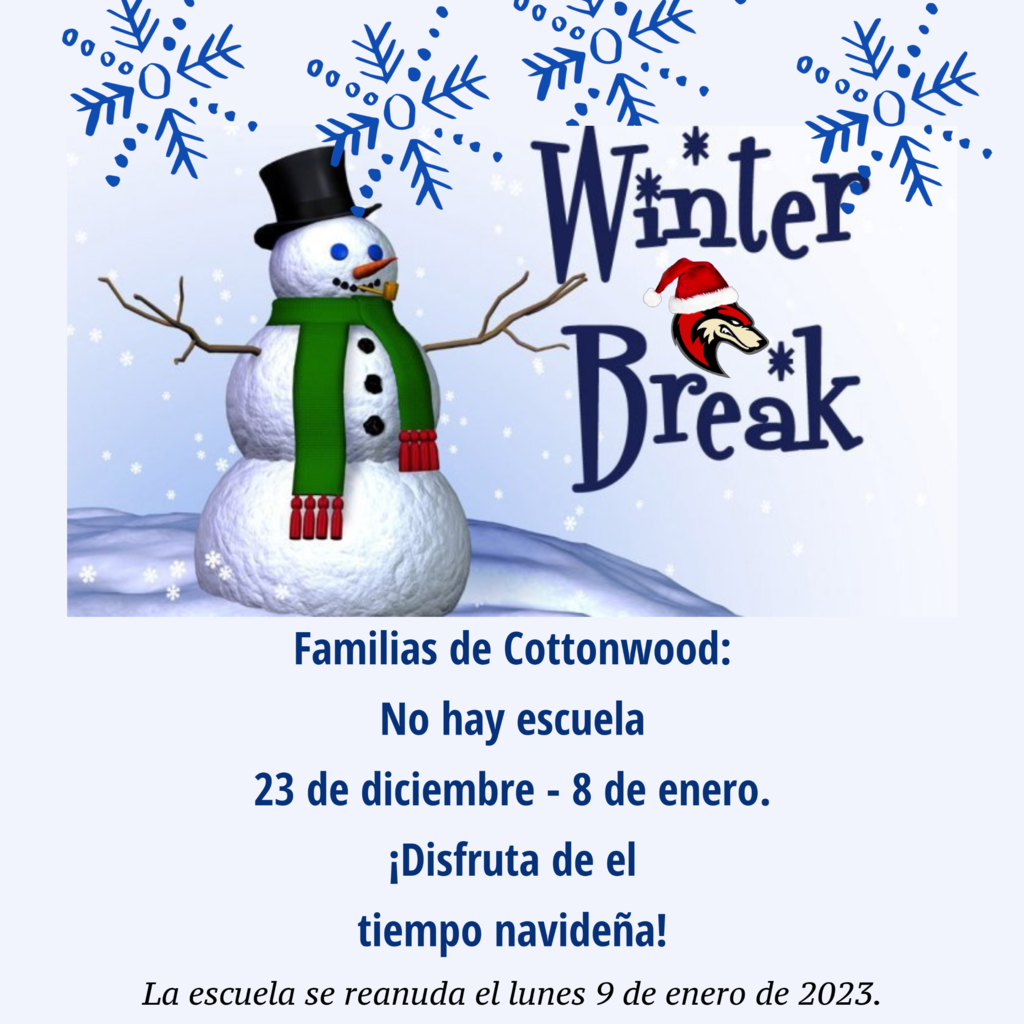 Good afternoon parents. If you are picking up students in the car pickup line, please do not pull into our parking lot until 1:30. Due to having 2 lines, it blocks parents from being able to come into the office. Thanks for your help! Buenas tardes padres. Si está recogiendo a los estudiantes en la línea de recogida de automóviles, no se detenga en nuestro estacionamiento hasta la 1:30. Debido a que tiene 2 líneas, impide que los padres puedan entrar a la oficina. ¡Gracias por tu ayuda!

Now more than ever before, we are seeing our children dealing with feelings of being overwhelmed and showing signs of anxiety. Please join us Thursday, December 15, 2022 from 9:30am - 11:00am for our Caregiver Workshop. We will take a deeper look into anxiety and what it looks like for each of us. Having an understanding of how anxiety presents in our children, can empower not only the child but you as the adult caring for them. If you have questions, please send an email to
evelyn.gonzalez@hesperiausd.org
. Click here to register:
https://docs.google.com/.../1FAIpQLSdPqcWVCpV.../viewform
... Ahora más que nunca, estamos viendo un aumento en los sentimientos de ansiedad y agobio en nuestros hijos. Únase a nosotros el jueves 15 de diciembre de 2022 de 9:30 a. m. a 11:00 a. m. para nuestro taller para cuidadores. Analizaremos la ansiedad y cómo se ve para cada uno de nosotros. Tener una comprensión de cómo se presenta la ansiedad en nuestros niños puede empoderar no solo al niño sino a usted como adulto que lo cuida. Si tiene preguntas, envíe un correo electrónico a
evelyn.gonzalez@hesperiausd.org
. Utilice este enlace para registrarse:
https://docs.google.com/.../1FAIpQLSdPqcWVCpV.../viewform
..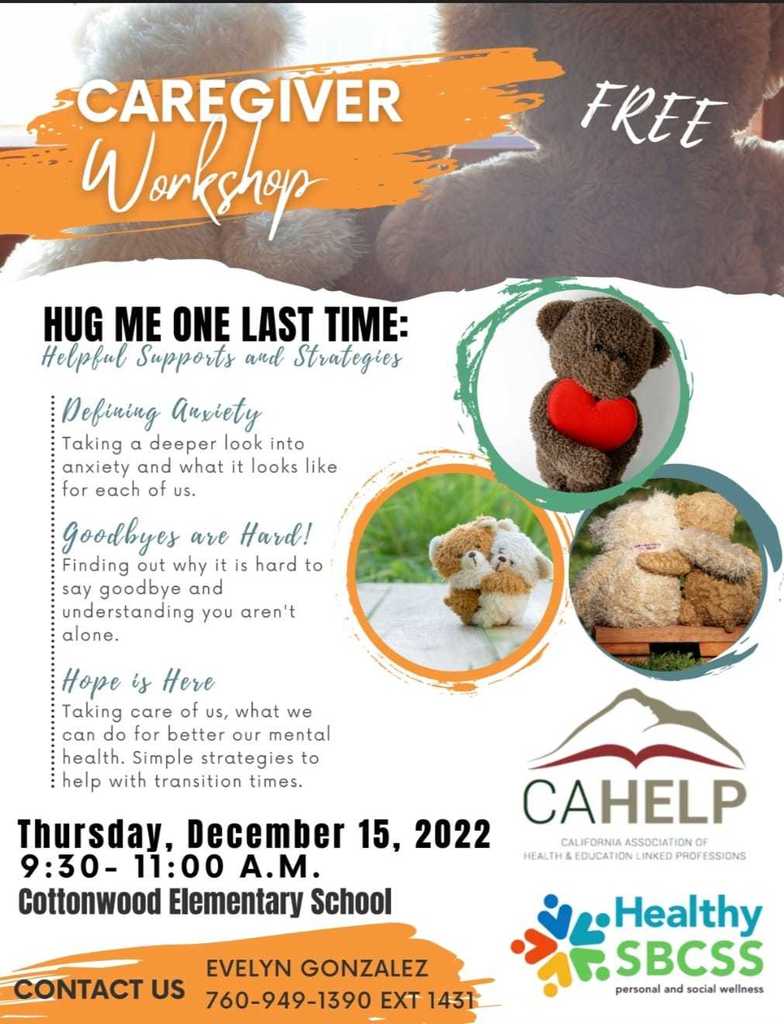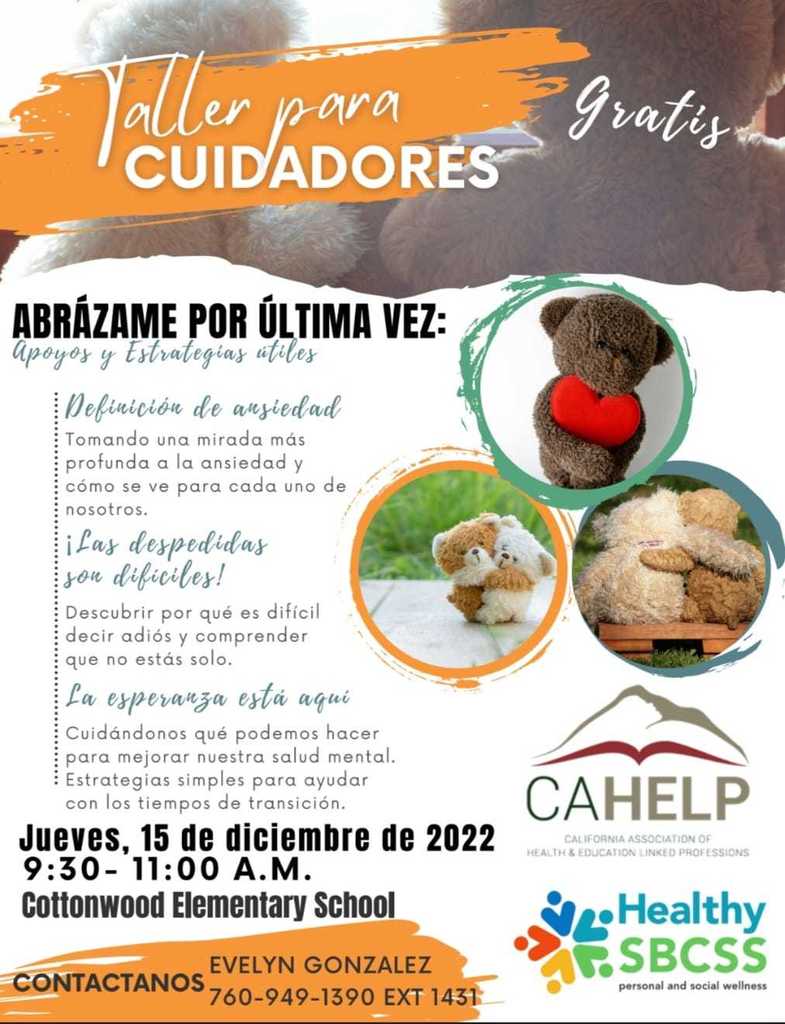 We are ready for some holiday cheer! Let's show that Coyote spirit - Holiday Edition during the week of Dec. 19th-Dec. 22nd. // ¡Estamos listos para un poco de alegría navideña! Demostremos ese espíritu Coyote - Edición festiva durante la semana del 19 de diciembre al 1 de diciembre. 22