Once again, we appreciate your patience as we all adjust to a new school year! If you would like to make changes to your child's dismissal, you can do this one of two ways. Come into the office & bring a photo ID to do in person or send an email to
cottonwoodregistration@hesperiausd.org
. Be sure to include your name with a copy of your photo ID, your child's name and the requested change. We will get these processed as quickly as possible. Have a great day! // ¡Una vez más, apreciamos su paciencia mientras todos nos adaptamos a un nuevo año escolar! Si desea hacer cambios en el despido de su hijo, puede hacerlo de dos maneras. Venga a la oficina y traiga una identificación con foto para hacerlo en persona o envíe un correo electrónico a
cottonwoodregistration@hesperiausd.org
. Asegúrese de incluir su nombre con una copia de su identificación con fotografía, el nombre de su hijo y el cambio solicitado. Los procesaremos lo más rápido posible. ¡Qué tienen un lindo día!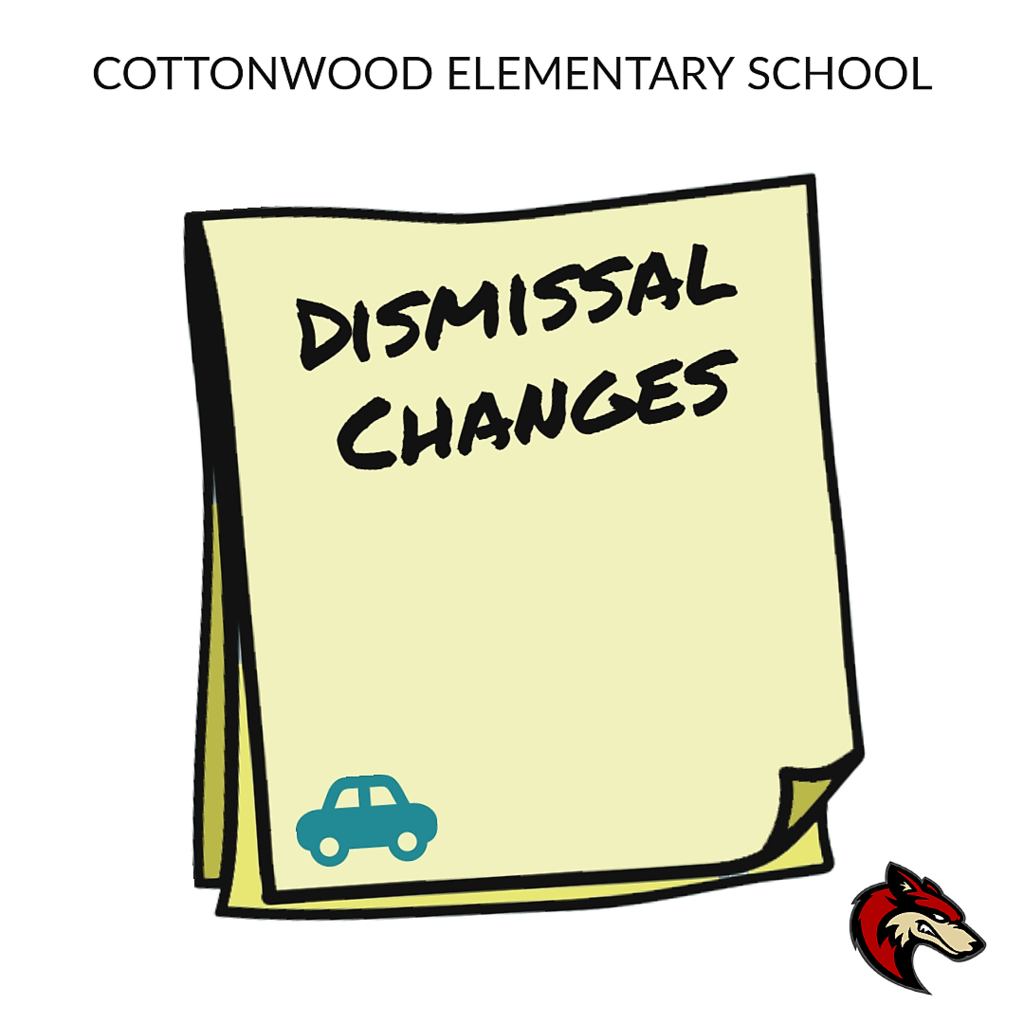 Parents, please remember that the walker dismissal is not a parent pickup. If you are parking and picking up your student, please change to our D Gate. Students who are at walker are students who walk home. Thanks for a wonderful first day! Padres, recuerden que la salida del caminante no es una recogida de los padres. Si está estacionando y recogiendo a su estudiante, cambie a nuestra Puerta D. Los estudiantes que están caminando son estudiantes que caminan a casa. ¡Gracias por un maravilloso primer día!
Coyote Families- If you were in our car pickup line we just wanted to THANK YOU for your patience today. We will get numbers out as soon as possible, but in the meantime please feel free to place a paper in your car window with your students name and grade. We appreciate you. Familias de Coyote: si estuvo en nuestra línea de recogida de automóviles, solo queríamos GRACIAS por su paciencia hoy. Publicaremos los números lo antes posible, pero mientras tanto, no dude en colocar un papel en la ventana de su automóvil con el nombre y el grado de su estudiante. Te apreciamos.

Good afternoon Cottonwood families! We've had a great day with your children. As a reminder, dismissal is at 1:47 pm everyday except early out Wednesdays, when we get out at 12:51 pm. We do ask your patience during our dismissal process as we have many students learning their new routines. Thank you! // ¡Buenas tardes familias de Cottonwood! Hemos pasado un gran día con sus hijos. Como recordatorio, la salida es a la 1:47 p.m. todos los días, excepto los miércoles, cuando salimos a las 12:51 p. m. Le pedimos paciencia durante nuestro proceso de salida ya que tenemos muchos estudiantes aprendiendo sus nuevas rutinas. Gracias!

Parents, tomorrow only, August 4, you will be allowed to walk your student to the classroom. We open the gates at 7:10. We are excited and ready for the first day of school! Padres, solo mañana, 4 de agosto, se les permitirá llevar a su estudiante al salón de clases. Abrimos las puertas a las 7:10. ¡Estamos emocionados y listos para el primer día de clases!

Transportation/Dismissal Information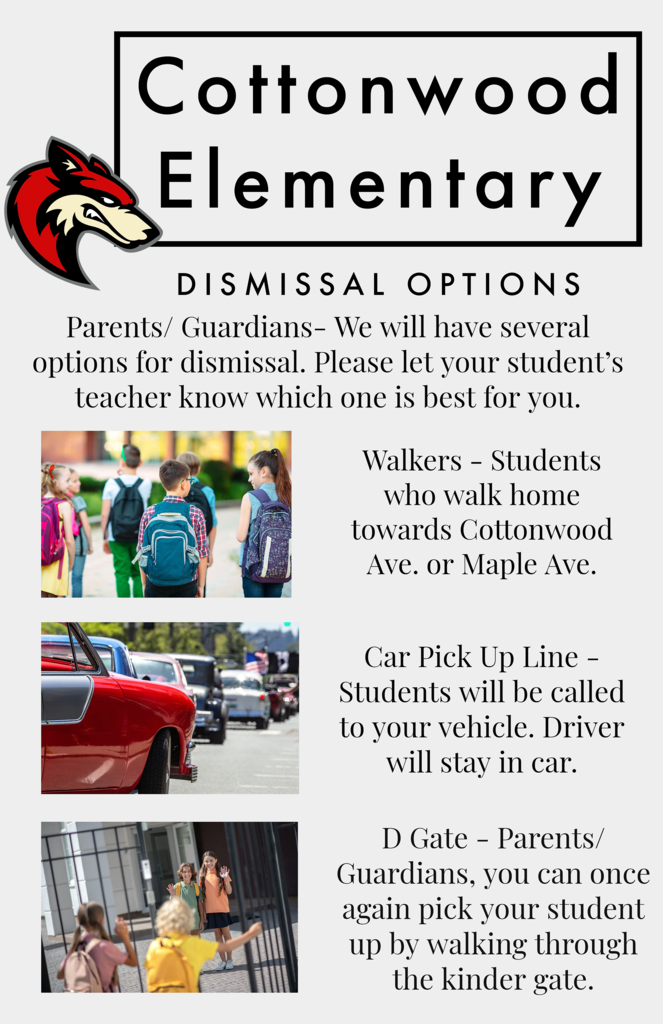 Cottonwood Coyotes- We are so excited to see you tomorrow. Parents/ guardians remember that gates open at 7:10am. If you are not sure who your student's teacher is please login to the parent portal. Remember to update your OLR. Parents/ Guardians you will be allowed to walk your student on campus tomorrow only. Estamos muy emocionados de verlos mañana. Padres/tutores recuerden que las puertas abren a las 7:10 am. Si no está seguro de quién es el maestro de su estudiante, inicie sesión en el portal para padres. Recuerda actualizar tu OLR. Padres/tutores, se les permitirá caminar con su estudiante en el campus solo mañana. ¡Esperamos ver a todos nuestros Coyotes!

It was wonderful to meet so many of you this evening at our Meet the Teacher event! Our staff are thrilled to welcome our Coyotes back to campus. It's going to be a fantastic year. See you Thursday!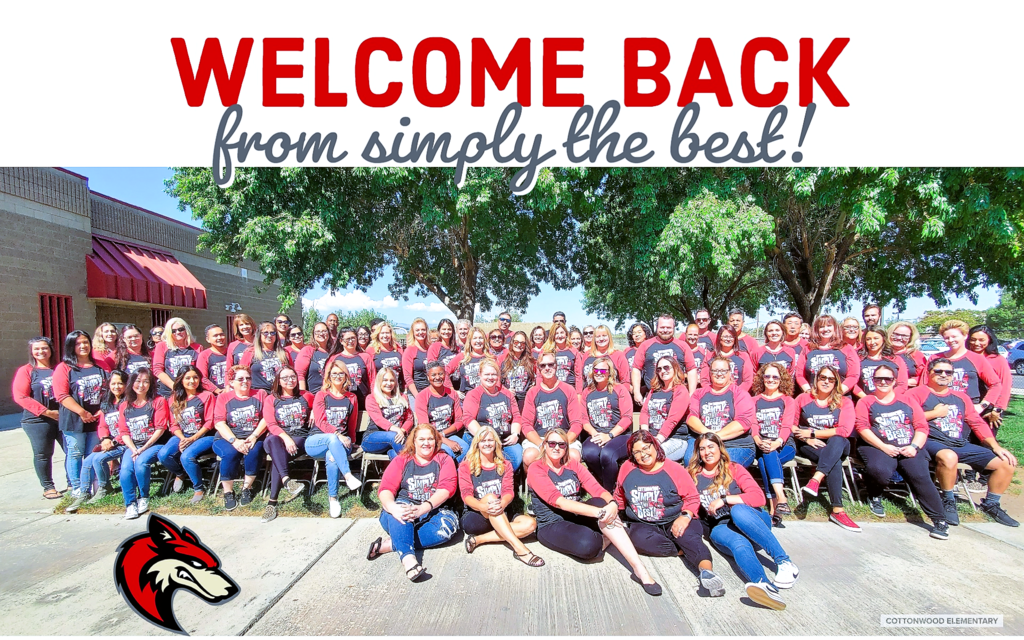 Hello Coyotes! Our school office will be closed on Tuesday, Aug. 2nd from 7 am - 1 pm for our All District In Service meeting. We will open at 1-3 pm to assist with your questions or concerns. Also, don't forget that we will host our Meet The Teacher event tomorrow afternoon, from 4-5 pm. We hope to see you there! // ¡Hola Coyotes! La oficina de nuestra escuela estará cerrada el martes 2 de agosto de 7 am a 1 pm para nuestra junta de todo el distrito. Abriremos de 1 a 3 p. m. para ayudarles con sus preguntas o inquietudes. Además, no olvide que tendremos nuestro evento Meet The Teacher mañana por la tarde, de 4 - 5 pm. ¡Esperamos verte ahí!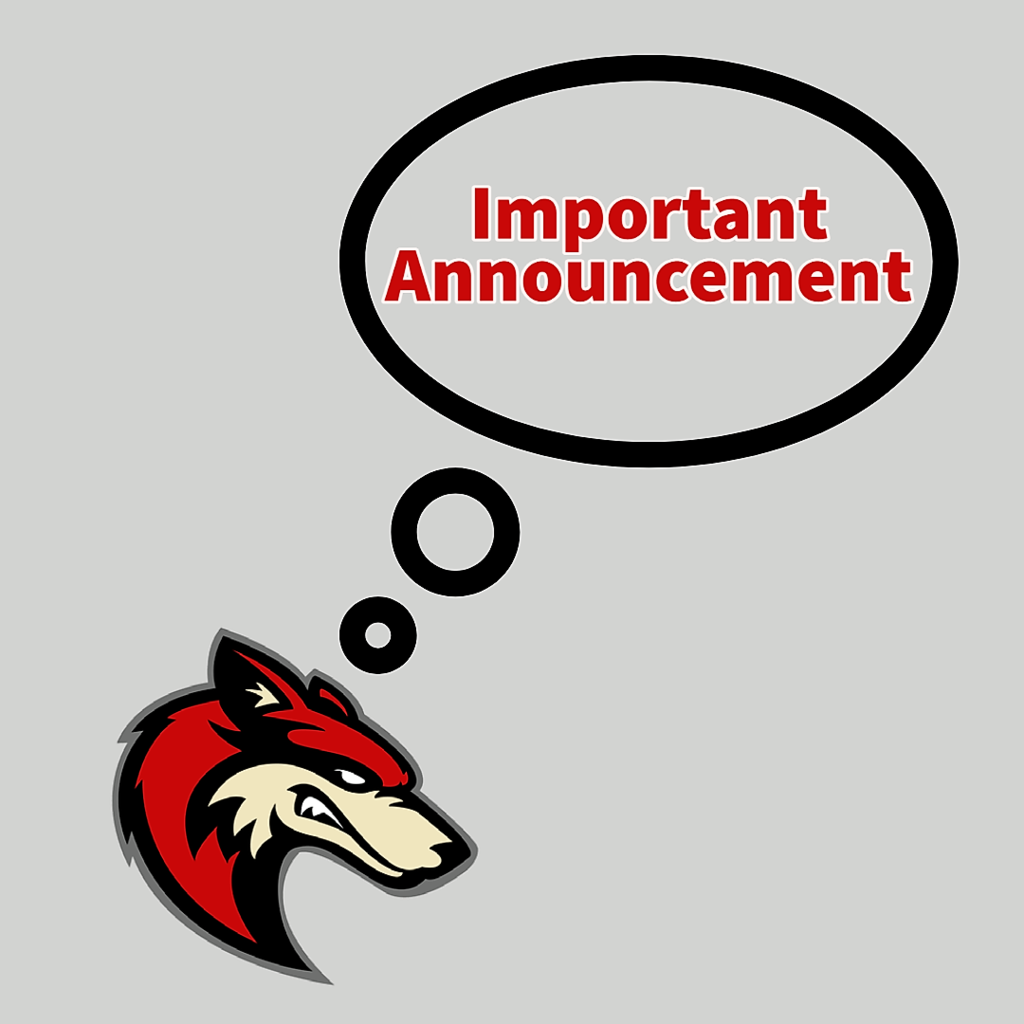 6th Grade Supply Recommendations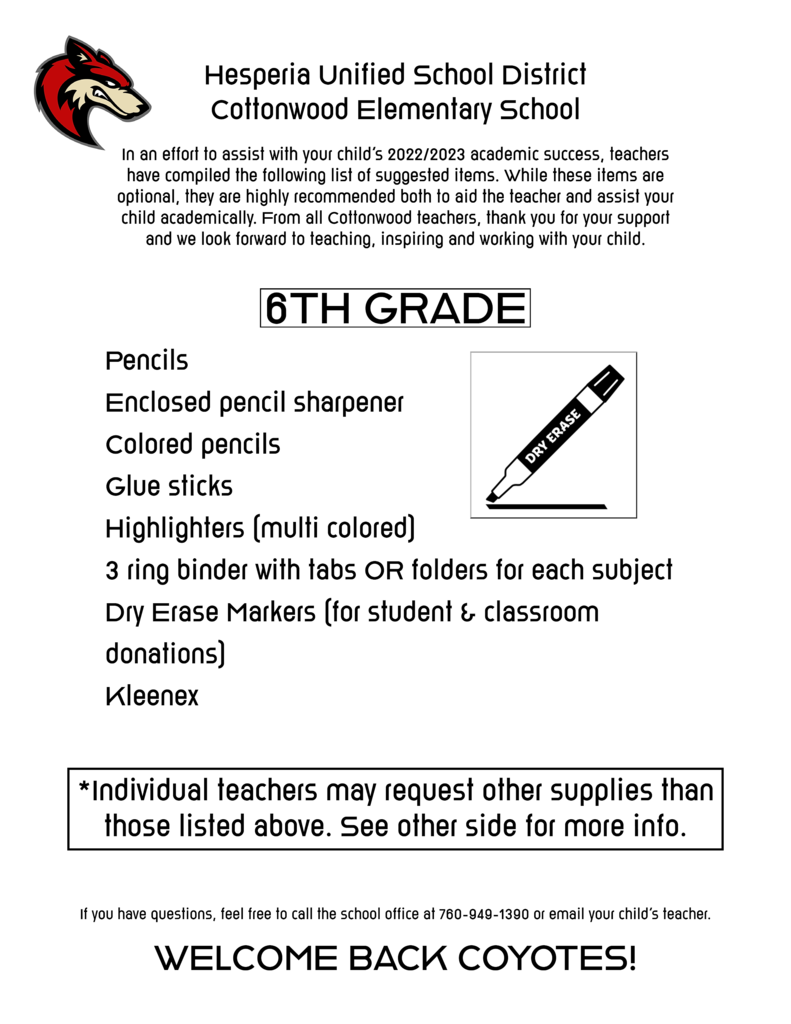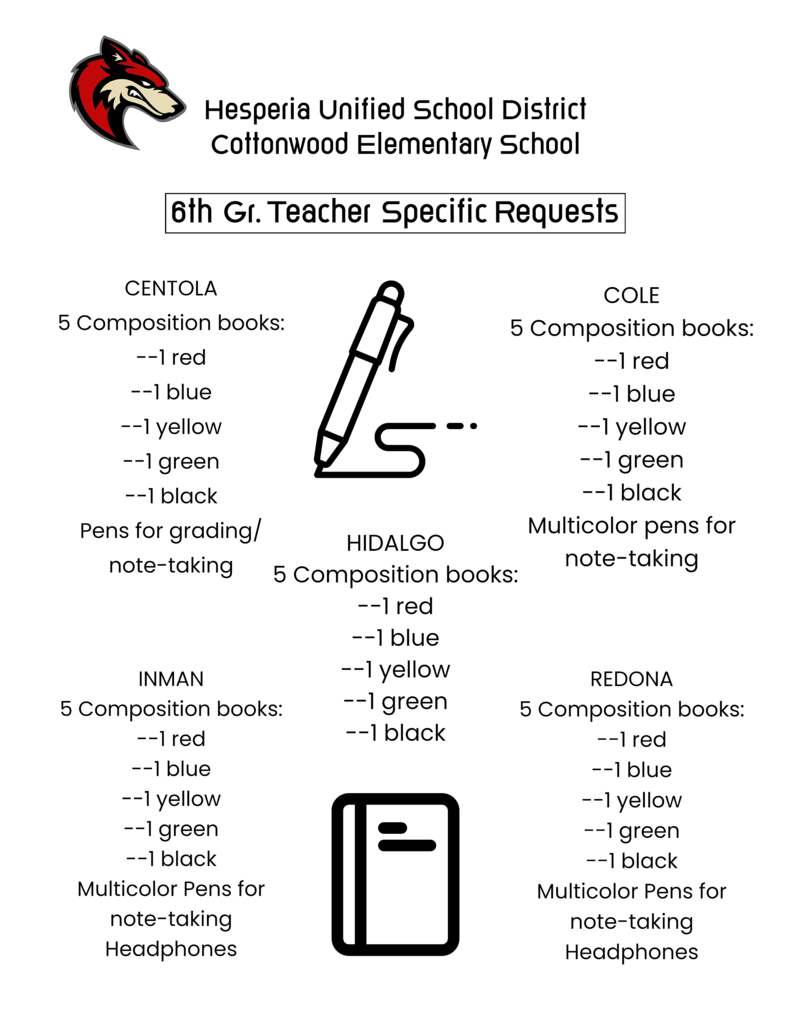 5th Grade Supply Recommendations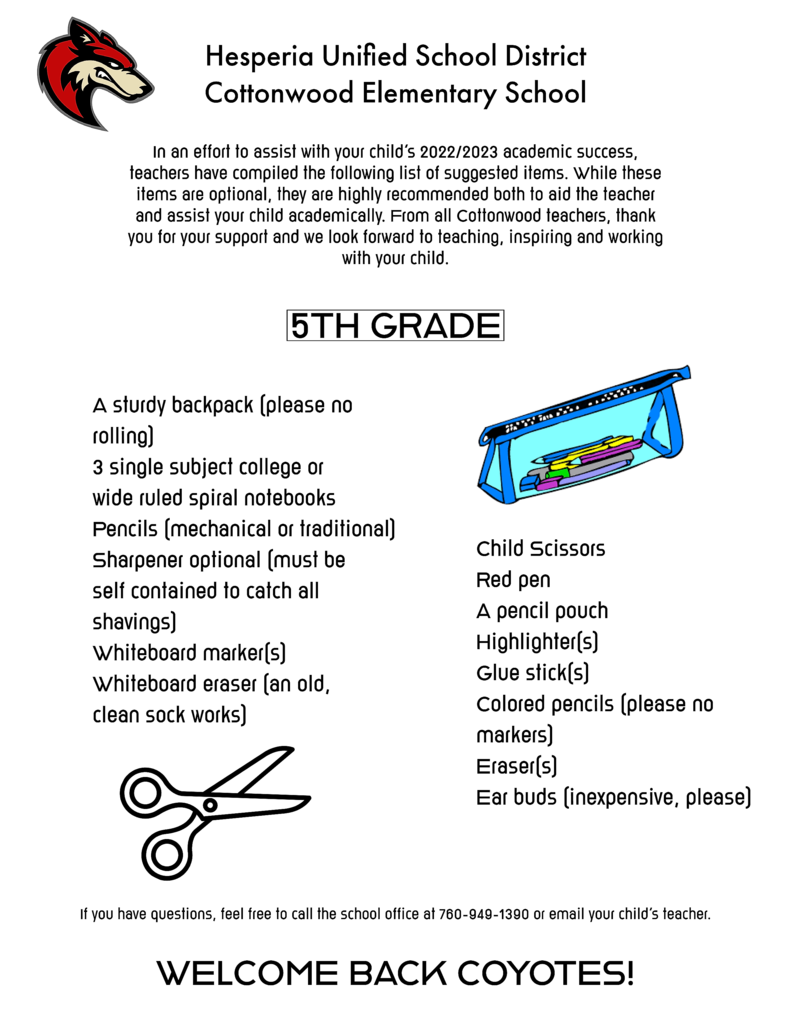 4th Grade Supply Recommendations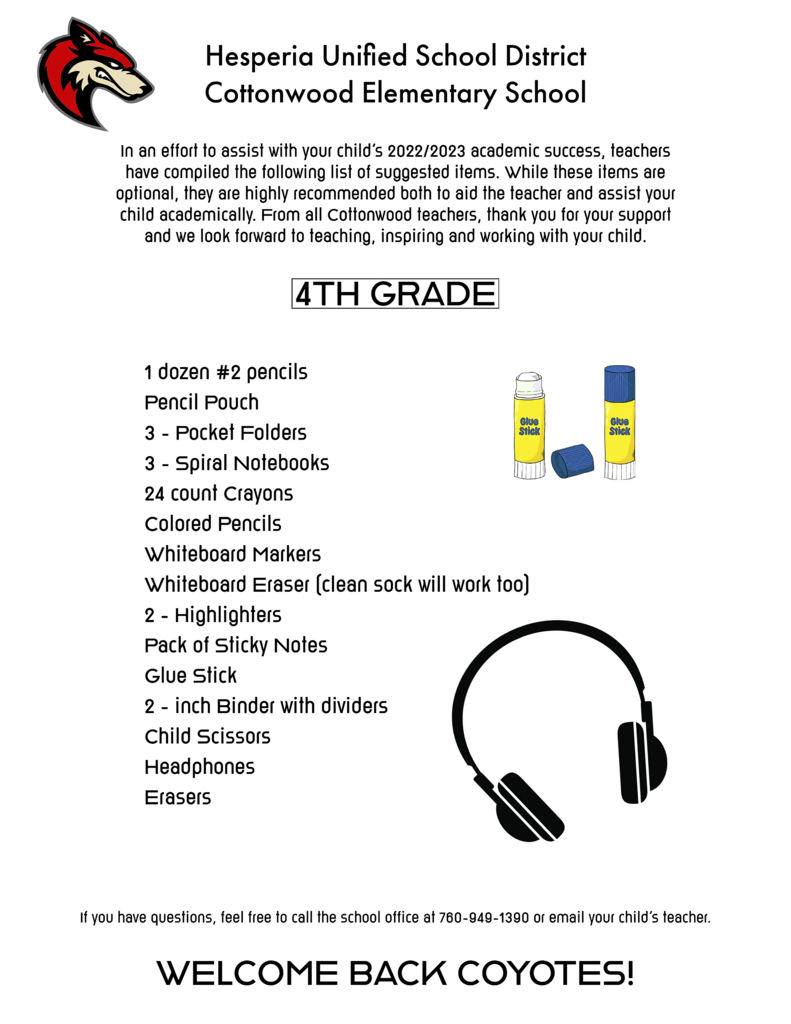 3rd Grade Supply Recommendations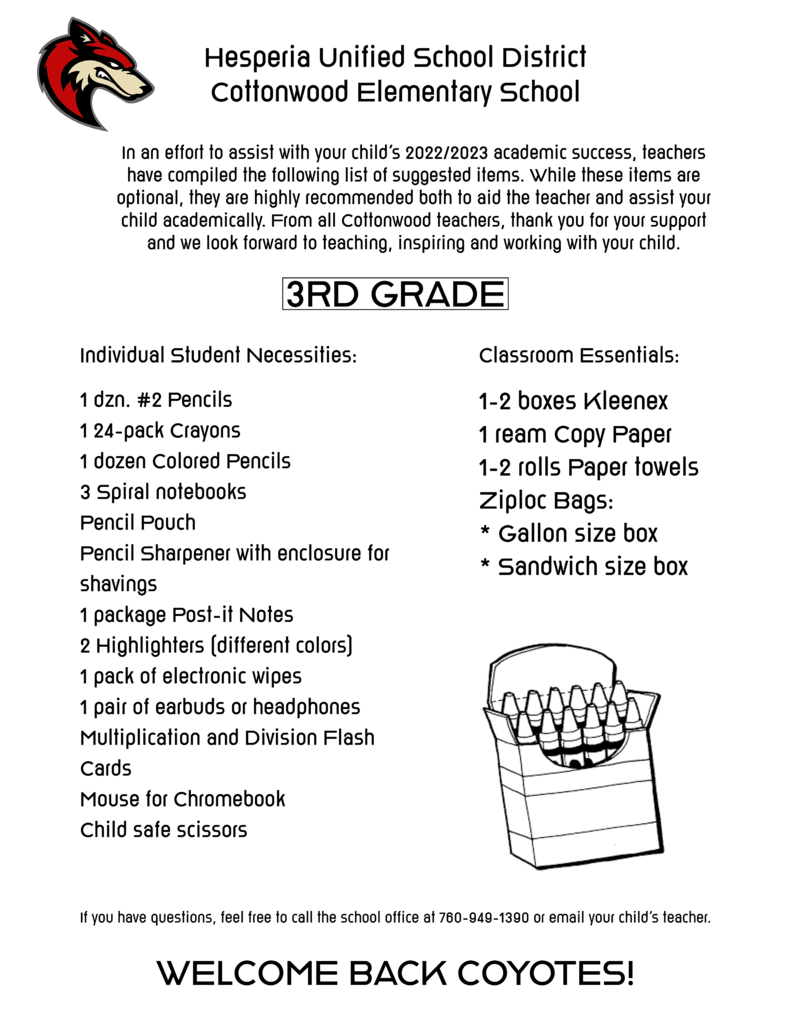 2nd Grade Supply Recommendations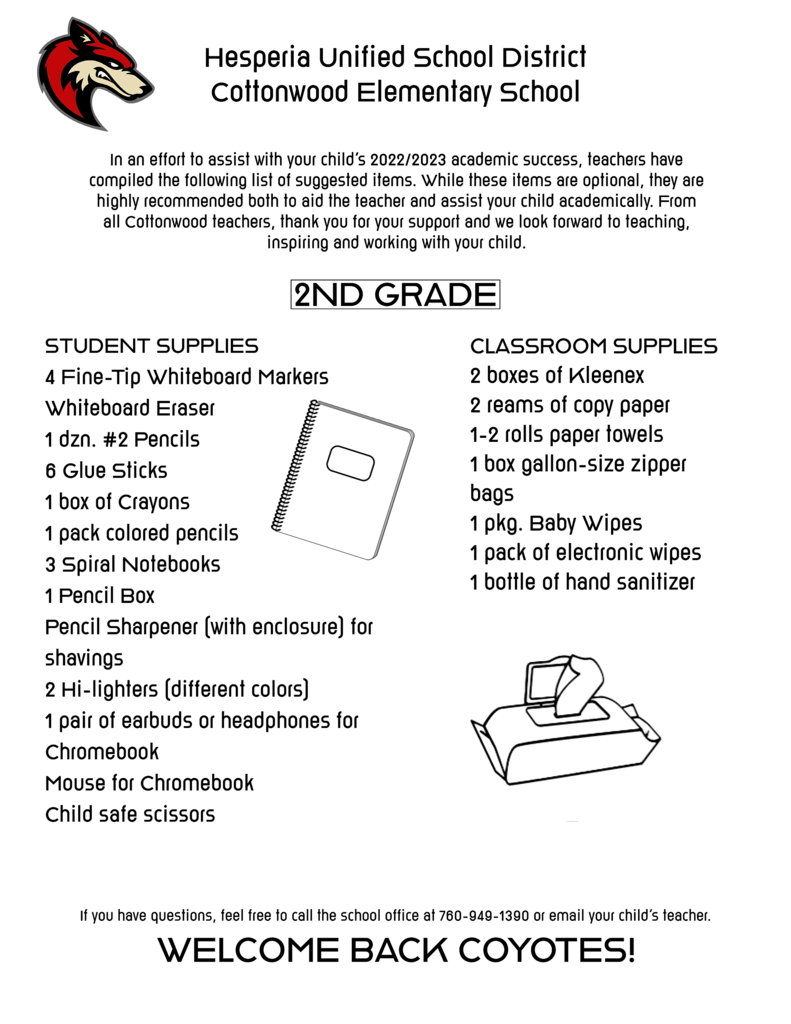 1st Grade Supply Recommendations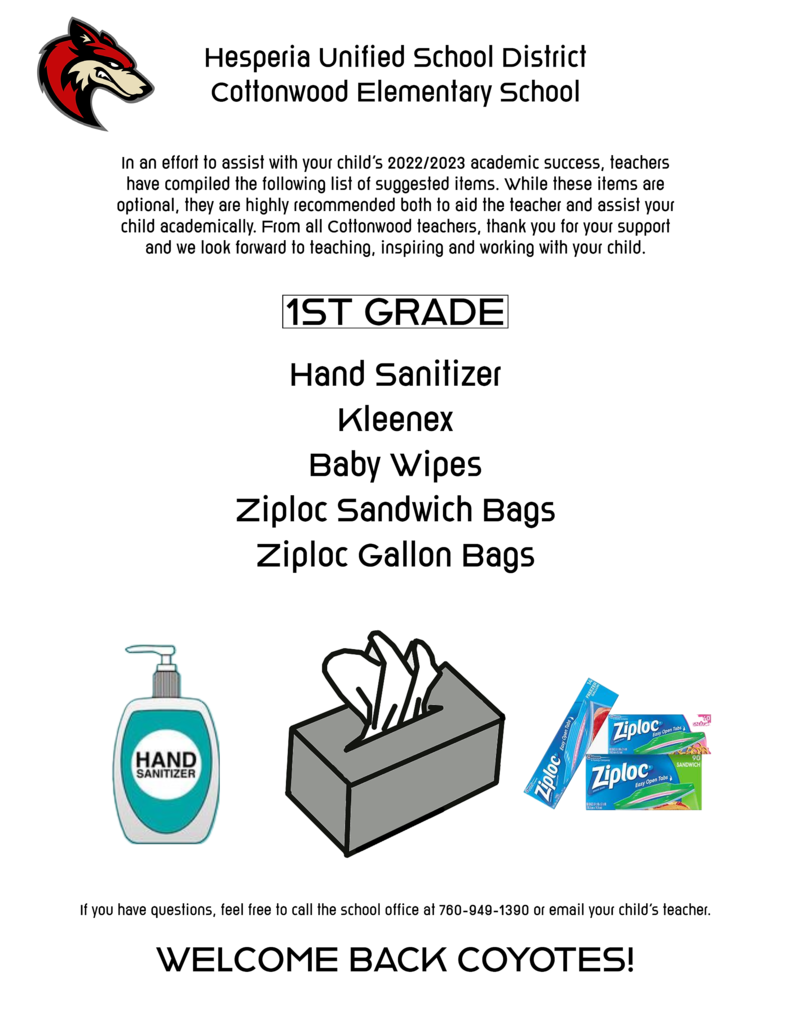 TK/Kinder Supply Recommendations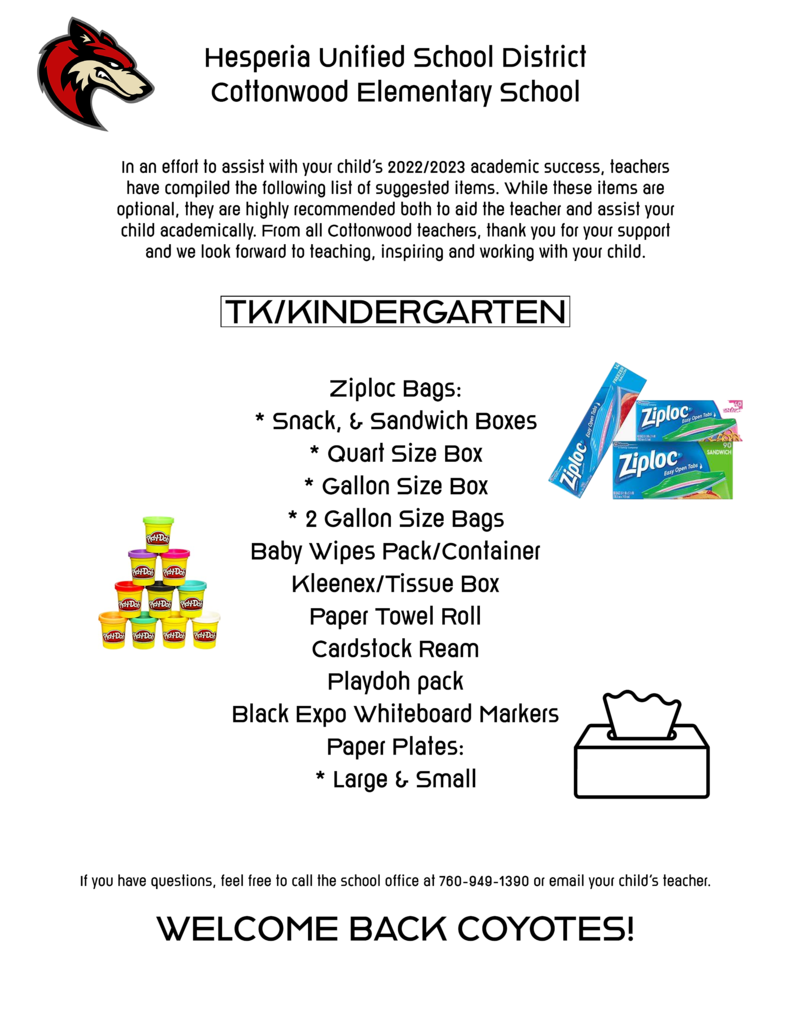 You are invited to Cottonwood's Meet The Teacher event on Tuesday, August 2nd between 4-5 pm. We welcome you to stop by for a brief introduction to your child's new teacher. If you haven't done so, take the opportunity to update your online registration by clicking the following link:
https://campus.hesperiausd.org/campus/portal/hesperia.jsp
This will help you obtain the most up to date information as we kick off the new year! // Están invitado al evento Meet The Teacher de Cottonwood el martes 2 de agosto de 4 a 5 pm. Le invitamos a pasar para una breve presentación del nuevo maestro de su hijo. Si aún no lo ha hecho, aproveche para actualizar su registro en línea haciendo clic en el siguiente enlace:
https://campus.hesperiausd.org/campus/portal/hesperia.jsp
Esto le ayudará a obtener la información más actualizada ¡mientras comenzamos el nuevo año!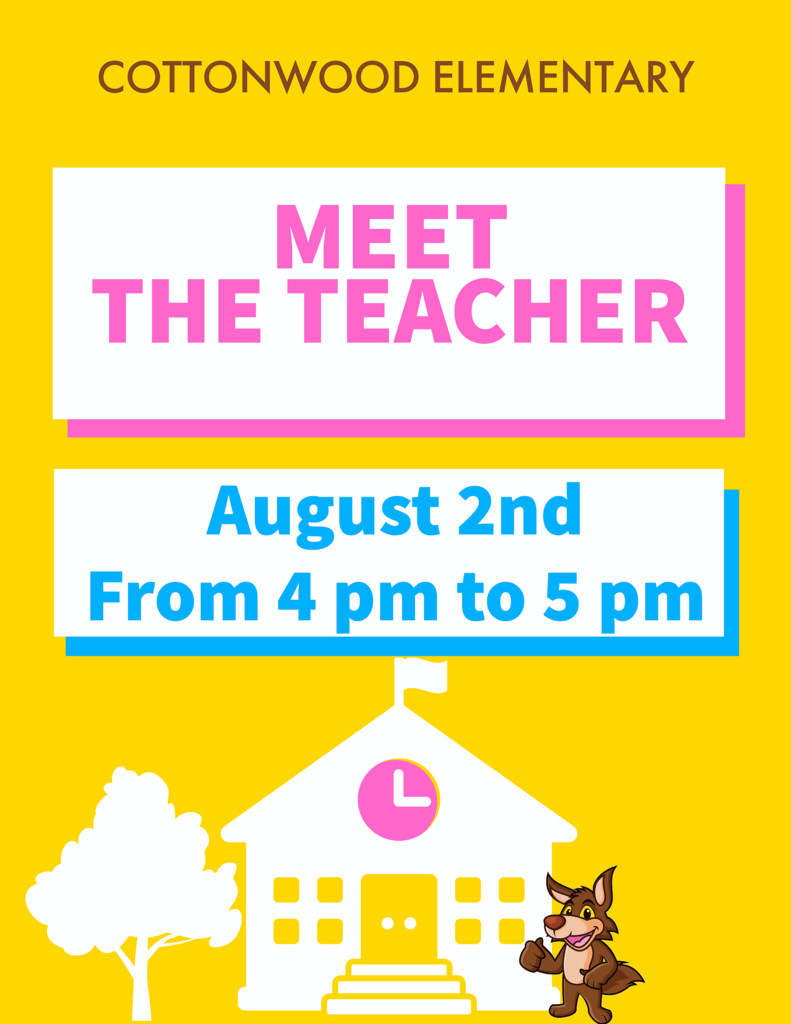 Good afternoon Coyotes! Parents & Guardians, it is REQUIRED that you update your child's registration for the current school year. Please click the link and follow the easy steps to update the information in the parent portal.
https://campus.hesperiausd.org/campus/portal/hesperia.jsp
To find out your child's teacher for the 2022/2023 school year you will need to update all information or register online prior to July 28th! Please call our office at 760-244-1390 if you have any questions. Thank you! // ¡Buenas tardes Coyotes! Padres, se REQUIERE que actualicen el registro de su hijo para el año escolar actual. Haga clic en el enlace y siga los sencillos pasos para actualizar la información en el portal para padres.
https://campus.hesperiausd.org/campus/portal/hesperia.jsp
¡Para conocer el maestro de su hijo para el año escolar 2022/2023, deberá actualizar toda la información o registrarse en línea antes del 28 de julio! Llame a nuestra oficina al 760-244-1390 si tiene alguna pregunta. ¡Gracias!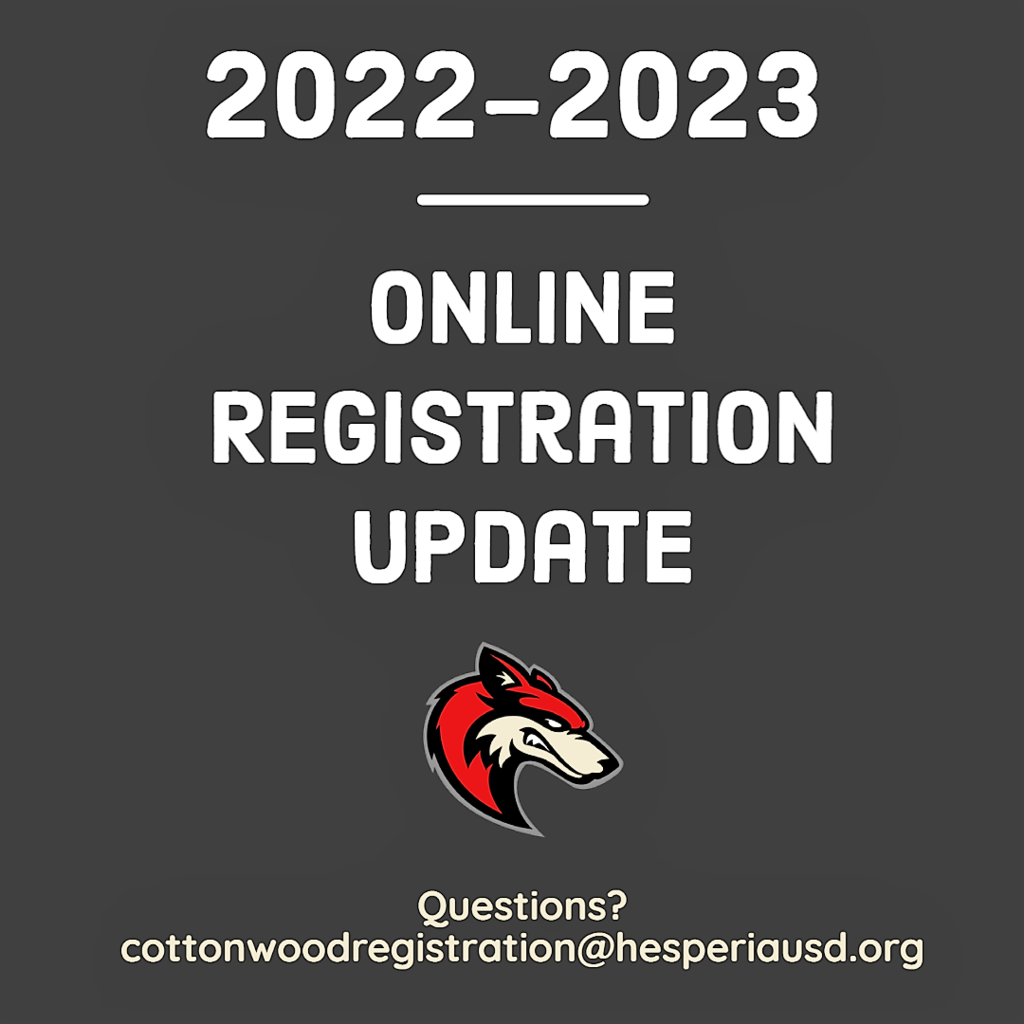 It's been a great summer but who's ready for school to start? It's approaching quickly. We'll see you all back on August 4th at 7:30 am. // Ha sido un gran verano, pero ¿quién está listo para que comience la escuela? Se acerca rápidamente. Nos vemos el 4 de agosto a las 7:30 am. ¡Esperamos que tenemos un gran año en Cottonwood!