Good morning Coyote families. If you pick up your student at the car gate after school, we are going to try to 2 lanes for pick up today. Our morning drop off is running smoothly and we'd like to try to speed up our dismissal. Thanks for your patience! Buenos días familias Coyote. Si recoge a su estudiante en la entrada de automóviles después de la escuela, vamos a tratar de recogerlo en 2 carriles hoy. Nuestra entrega de la mañana está funcionando sin problemas y nos gustaría tratar de acelerar nuestra salida. ¡Gracias por su paciencia!

Hola padres de CW. Mañana por la mañana para la entrega de automóviles, nuestra policía escolar estará aquí para ayudarnos a probar un nuevo sistema de entrega de 2 carriles. Si se coloca en el carril derecho, tendrá que girar a la derecha para salir del estacionamiento. Si se coloca en el carril izquierdo, tendrá que girar a la izquierda al salir. Puede tomar algunos días acostumbrarse a esto, pero será más seguro para nuestros estudiantes y más rápido una vez que nos adaptemos a este sistema.

Hello CW parents. Tomorrow morning for car drop off, our school police will be here helping us try out a new 2 lane drop off system. If you get in the right lane, you will have to turn Right to exit the parking lot. If you get in the left lane, you will have to turn Left when exiting. This may take a few days to get used to, but will be safer for our students and quicker once we adjust to this system.

Parents and guardians we need your help! In the morning at drop off, please DO NOT drop students off in the parking lot and have them cross moving traffic. This is a major safety concern. We want to protect all of our Coyotes from harm! Thank you! ¡Padres y tutores, necesitamos su ayuda! En la mañana en el momento de la entrega, NO deje a los estudiantes en el estacionamiento y haga que crucen el tráfico en movimiento. Esta es una preocupación importante de seguridad. ¡Queremos proteger a todos nuestros Coyotes de cualquier daño! ¡Gracias!

HUSD and the HDAOR (High Desert Association of Realtors) are committed to stopping youth substance abuse. The HDAOR "How to recognize-prevent substance abuse" meetings are aimed at helping parents help children deal with peer pressure, detect substance abuse problems, and/or determine appropriate intervention steps. The HDAOR will host a series of free workshops dedicated to helping those who have not become involved in drug or alcohol use to avoid doing so and encourage those who are struggling with addiction to get the help that they need. For more information please visit:
https://5il.co/1kigd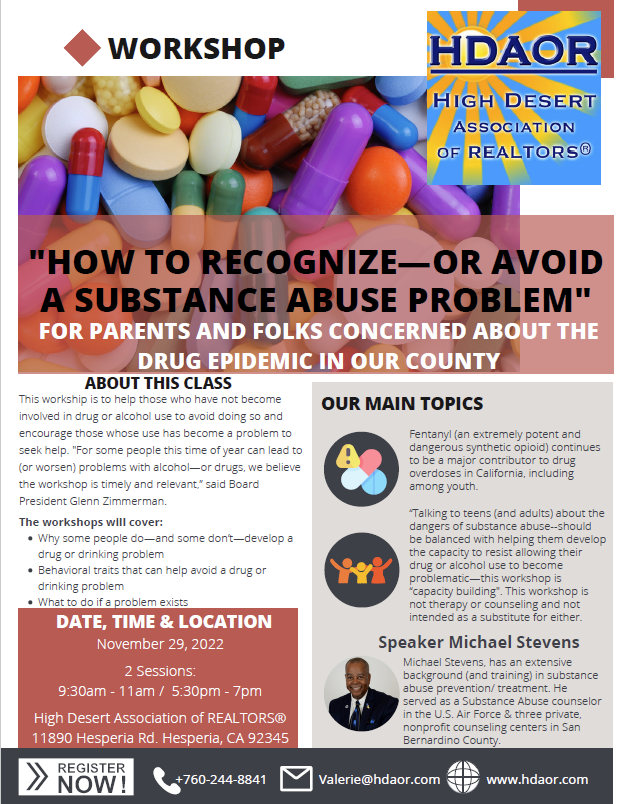 Just a friendly reminder that we are having an ELAC meeting this Thursday, November 17 from 9-10am. We will have a guest speaker from Community Health Action Network - CHAN. We hope to see many families there. Sólo un recordatorio de que tendremos una reunión de ELAC este Jueves 17 de noviembre de 9 a 10 a. m. Tendremos un invitado de Community Health Action Network - CHAN. Esperamos ver muchas familias allí.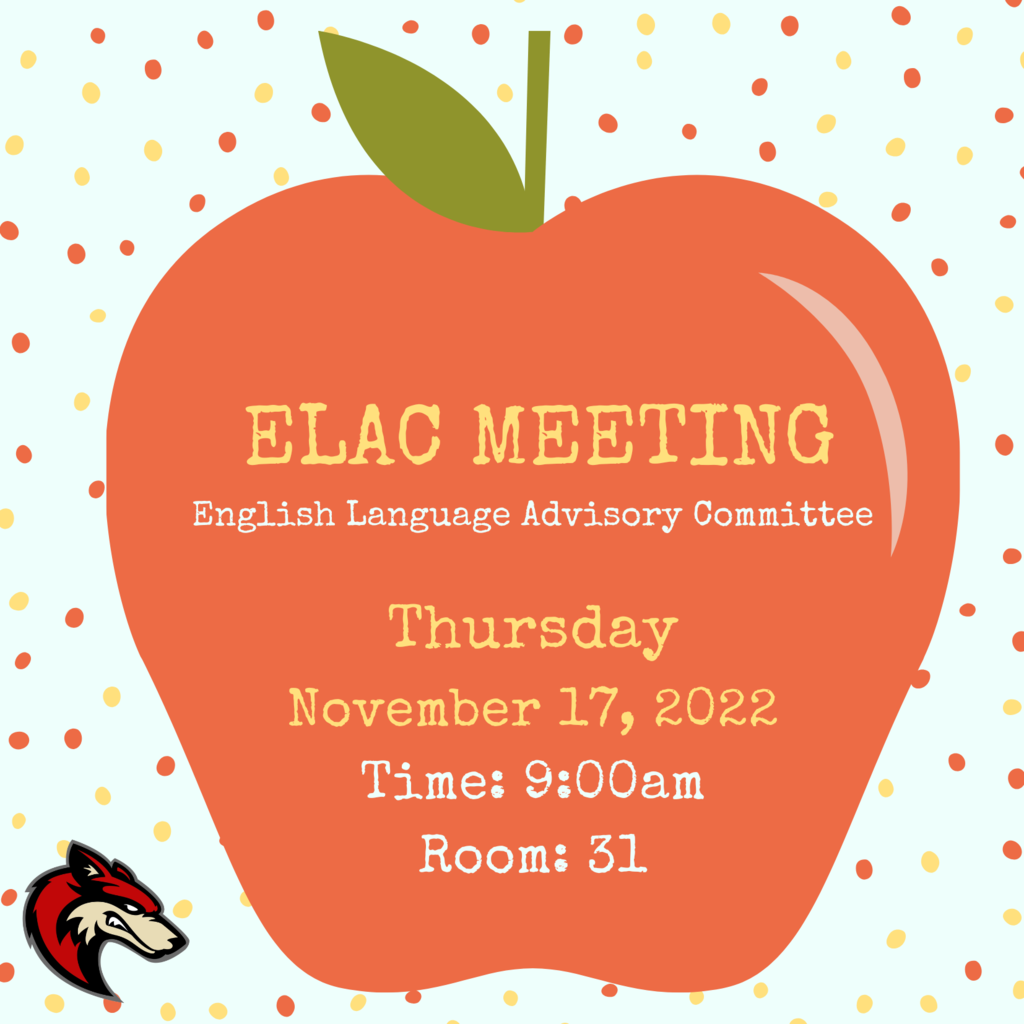 Good morning Cottonwood Families- During this time of thanksgiving we would love to share with our staff who you are thankful for. If you would like to participate please complete the form (which can also be found on our Facebook page).
https://forms.gle/rSpaYQ85YKwkJ5999

Good afternoon Coyotes! Just a friendly reminder there is no school on Friday, Nov. 11 in observance of Veterans Day. We would like to thank all of the family and community members who have served our country. Have a safe weekend! // ¡Buenas tardes Coyotes! Solo un recordatorio amistoso de que no hay clases el viernes 11 de noviembre en conmemoración del Día de los Veteranos. Nos gustaría agradecer a todos los miembros de la familia y la comunidad que han servido a nuestro país. ¡Que tenien un fin de semana seguro!

Parents, please be aware that some criminal drug networks are using social media and smartphone apps to flood the U.S. with deadly fentanyl and fentanyl-laced fake pills. Monitor your children's social media and phone usage to prevent these criminals from preying on them. #OnePillCanKill Learn more at
https://www.husdpd.com/o/husd-police-department/page/fentanyl-resources

Good evening Cottonwood Families! Students will participate in the annual Halloween costume parade tomorrow morning at 9am. Please do not send students in costumes that require accessories, face masks, face makeup/blood. All costumes must be appropriate for school. Families are welcome to join us in the designated area to enjoy the parade. Gates will open at 8:50 am. We look forward to a howlin' good time! // ¡Buenas noches familias de Cottonwood! Los estudiantes participarán en el desfile anual de disfraces de Halloween mañana a las 9 a.m. No envíe a los estudiantes con disfraces que requieran accesorios, máscaras faciales, maquillaje facial/sangre. Todos los disfraces deben ser apropiados para la escuela. Las familias pueden unirse a nosotros en el área designada para disfrutar del desfile. Las puertas se abrirán a las 8:50 am. ¡Esperamos pasar un buen rato!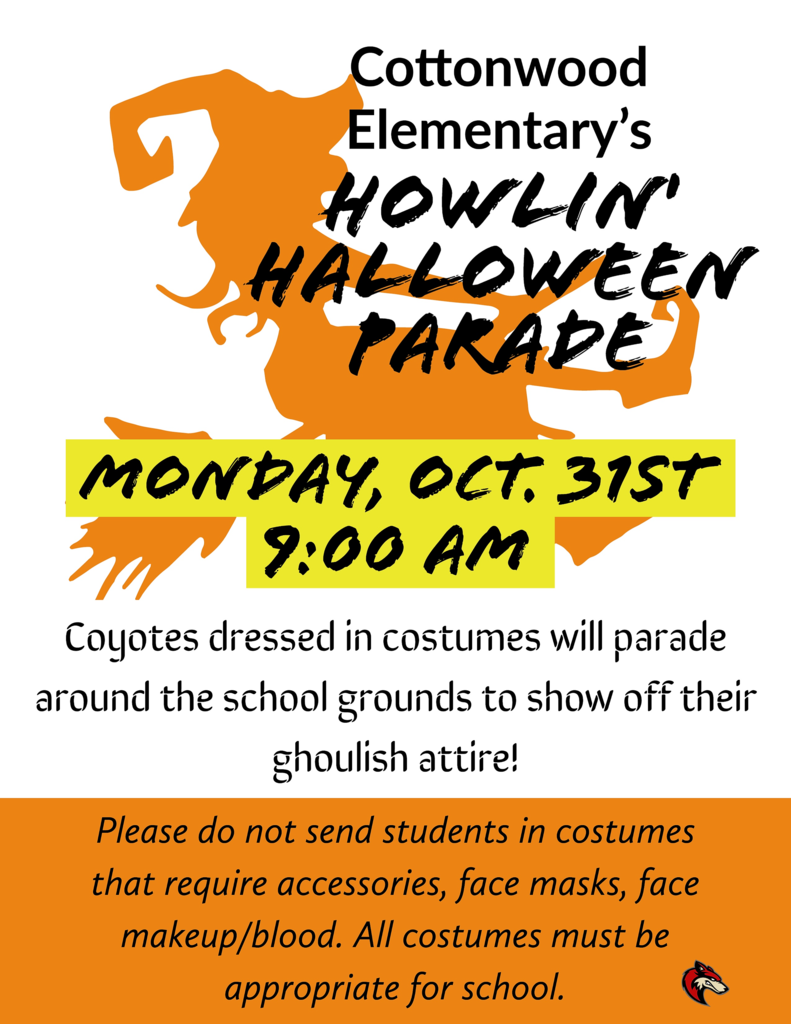 Good afternoon families. Today at approximately 12pm we received reports of a possible gas odor on campus. As a precaution we evacuated students and staff to the fields for a short time while Southwest Gas investigated the report of the odor. Southwest Gas with the support of our district maintenance team, school police, and the fire department checked the entire school and gave the all clear for students to return to class. All afternoon clubs and ASAP will continue as scheduled. If you have any questions, please contact our office. Buenas tardes familia. Fuimos avisados a evacuar la escuela por precaución esta tarde por la compañía Southwest Gas. Están trabajando en el área y recibieron reporte de un olor que podría ser gas. Southwest Gas con el soporte de nuestro equipo del distrito, policía de la escuela, y el departamento de bomberos revisaron toda la escuela y dieron la señal que todo está bien para los estudiantes regresar a clase. Todos los clubs y programas después de escuela continúan como normal. Si tiene alguna pregunta, por favor llame a nuestra oficina.

Red Ribbon Week Oct.24-28th Dress-up Days!!! We will celebrate Red Ribbon Week from Oct. 24-28th! Join us in showing your support each day by participating in the following Spirit Days: Monday: Live Life Peacefully -Peace signs and/or tie dye Tuesday: Live Life Bright -Bright colors and sunglasses Wednesday: Who's Your Team for Life - Jersey (No Kings or Raiders per district policy) Thursday: Live Your Dreams! - Pajamas (Must be appropriate for school) Friday: Celebrate Life. Live Drug Free - Wear red and black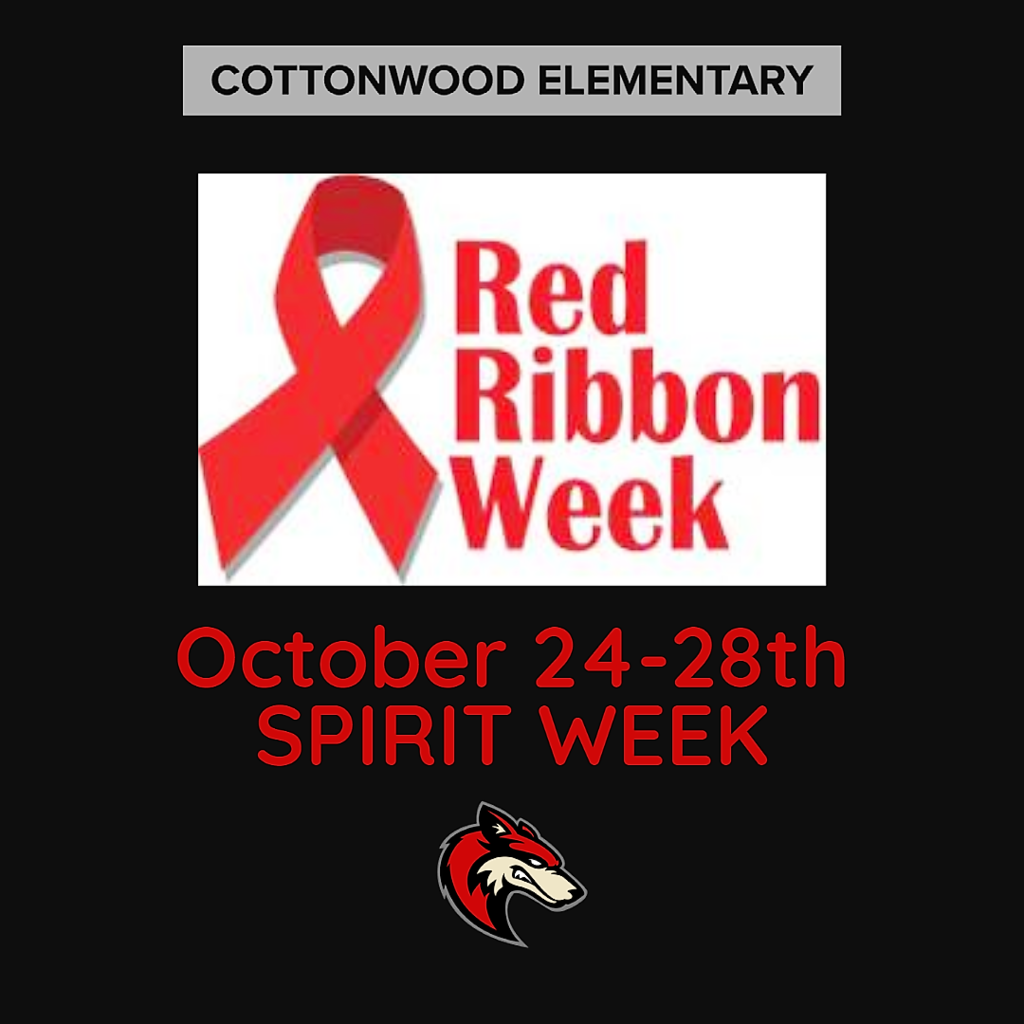 Our Student Council will be selling Halloween Grams all next week at lunches in the cafeteria. They are $1 each (cash only) & will be delivered to students on 10/31. Thank you for the support!

We have some of the BEST families at Cottonwood! So many of you have returned the green survey forms to help us receive school funding. We are sending you a huge THANK YOU! If you've not done so, please remember these forms are due tomorrow, 10/21. Ask your child to return the form to their teacher. Together we can continue to do great things at Cottonwood! // ¡Tenemos algunas de las MEJORES familias en Cottonwood! Muchos de ustedes han devuelto los formularios de la encuesta verde para ayudarnos a recibir fondos escolares. ¡Les enviamos un enorme GRACIAS! Si no lo ha hecho, recuerde que estos formularios vencen mañana, 21/10. Pídale a su hijo que le devuelva el formulario a su maestro. ¡Juntos podemos continuar haciendo grandes cosas en Cottonwood!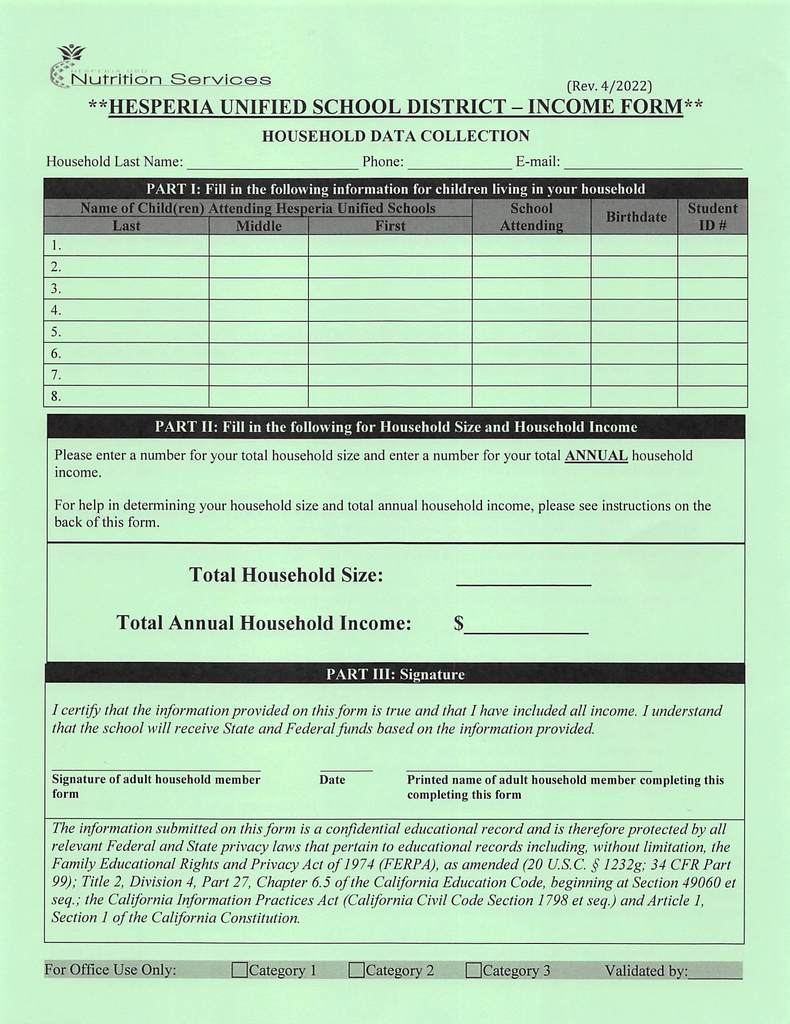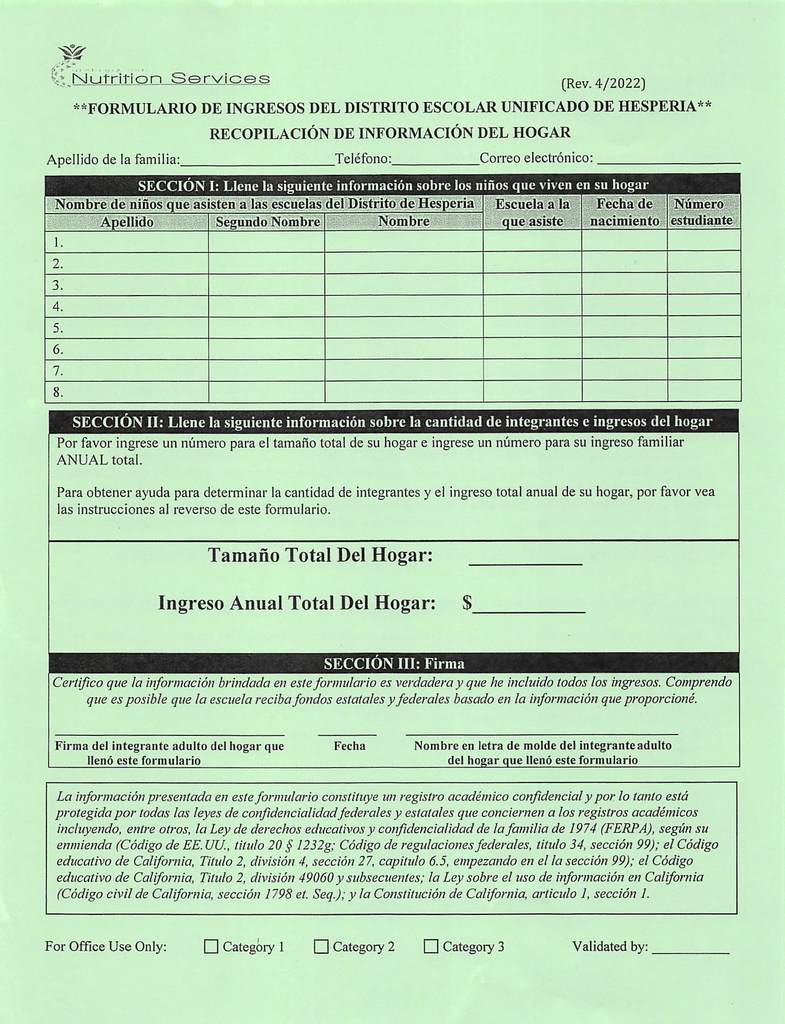 Today we participated in the Great California ShakeOut. Our Coyotes did a great job following directions and staying safe! Hoy participamos en el Great California ShakeOut. ¡Nuestros Coyotes hicieron un gran trabajo siguiendo las instrucciones y manteniéndose a salvo!

Brightly-colored fentanyl (referred to as rainbow fentanyl) has been identified as a new trend according to the United States (U.S.) Drug Enforcement Agency (DEA). Rainbow fentanyl can be found in many forms, including pills, powder, and blocks that can resemble sidewalk chalk or candy. Any pill (regardless of its color, shape, or size) that does not come from a health care provider or pharmacist can contain fentanyl and can be deadly. For more information you can visit the DEA website here:
https://www.dea.gov/press-releases/2022/08/30/dea-warns-brightly-colored-fentanyl-used-target-young-americans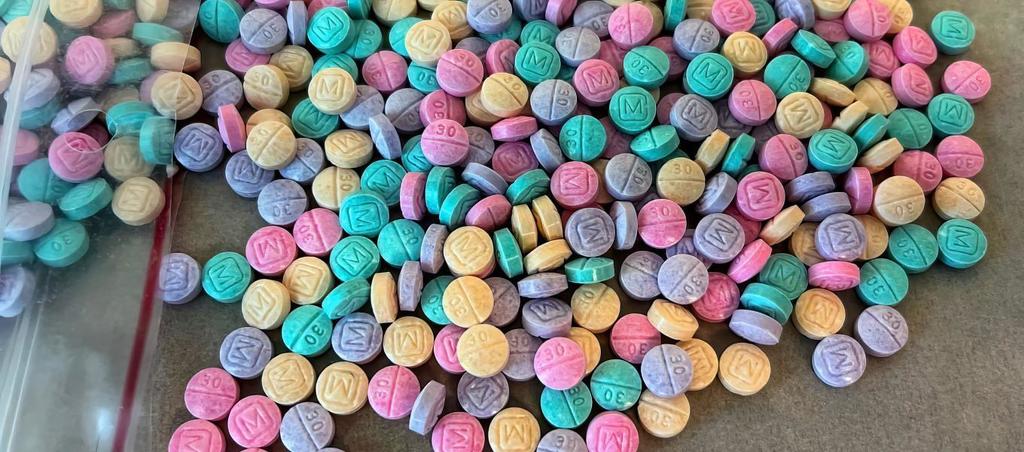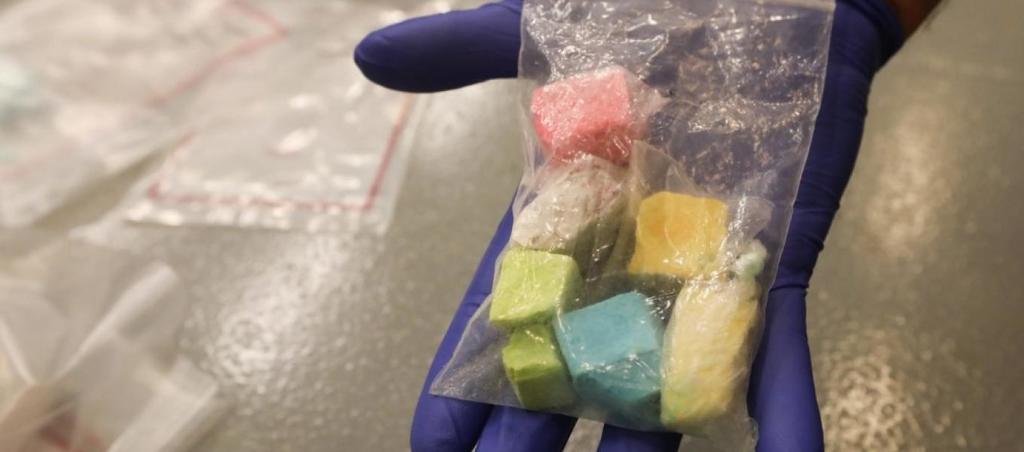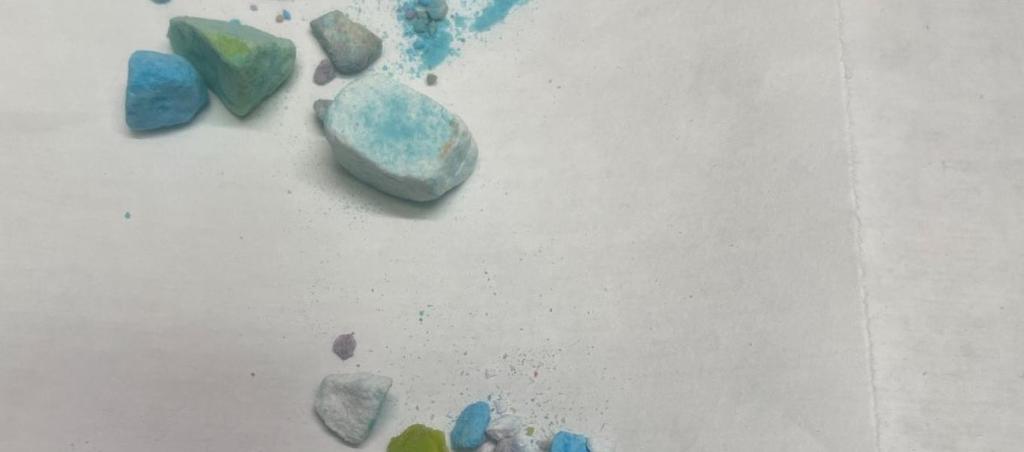 Our fundraiser items will be arriving tomorrow afternoon, Wednesday, October 19. You can pick up items at 1:00 pm in our cafeteria. Thanks for your support! Nuestros artículos para recaudar fondos llegarán mañana por la tarde, miércoles 19 de octubre. Puede recoger artículos a la 1:00 pm en nuestra cafetería. ¡Gracias por su apoyo!

Attention parents! Our school needs help getting funding! If your child brings home a green survey form, please complete it & return to Cottonwood by Friday, 10/21. It can help fund field trips, our school-wide free breakfast and lunch program, supplies and more! It's fast and completely confidential. Please fill them out ASAP! // ¡Atención padres! ¡Nuestra escuela necesita ayuda para obtener fondos! Si su hijo trae a casa un formulario de encuesta verde, complételo y devuélvalo a Cottonwood antes del viernes 10/21/22. ¡Puede ayudar a financiar excursiones, nuestro programa de desayuno y almuerzo gratis para toda la escuela, suministros y más! Es rápido y completamente confidencial. ¡Por favor complételos lo mas antes posible!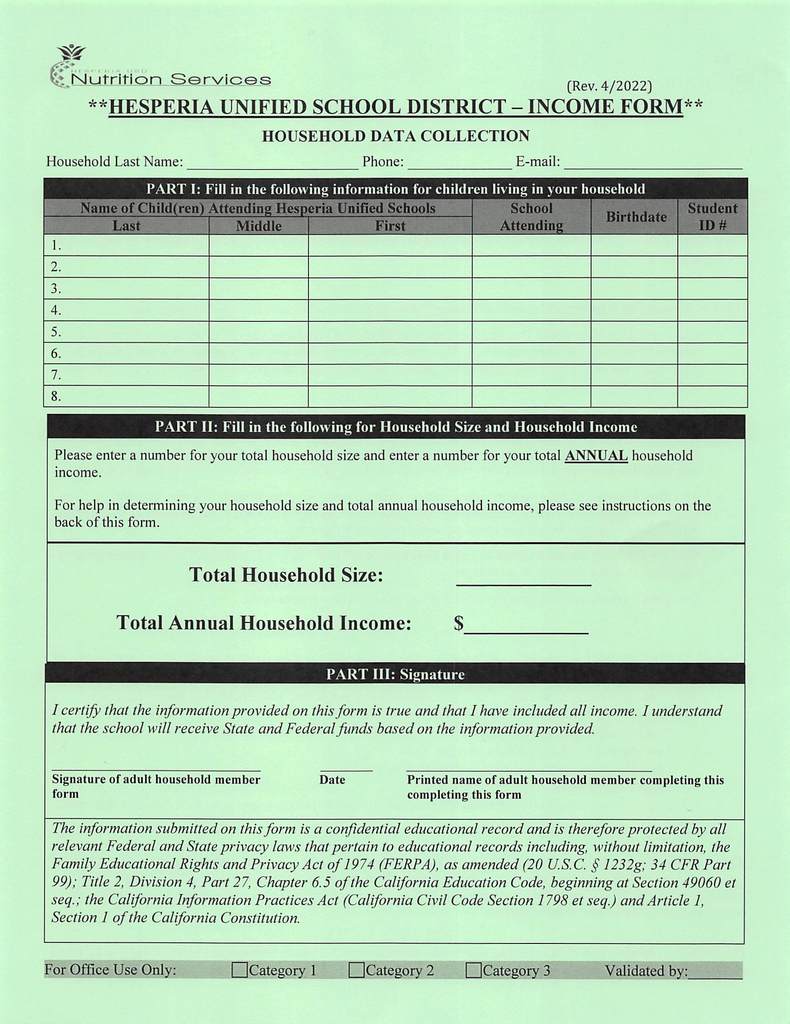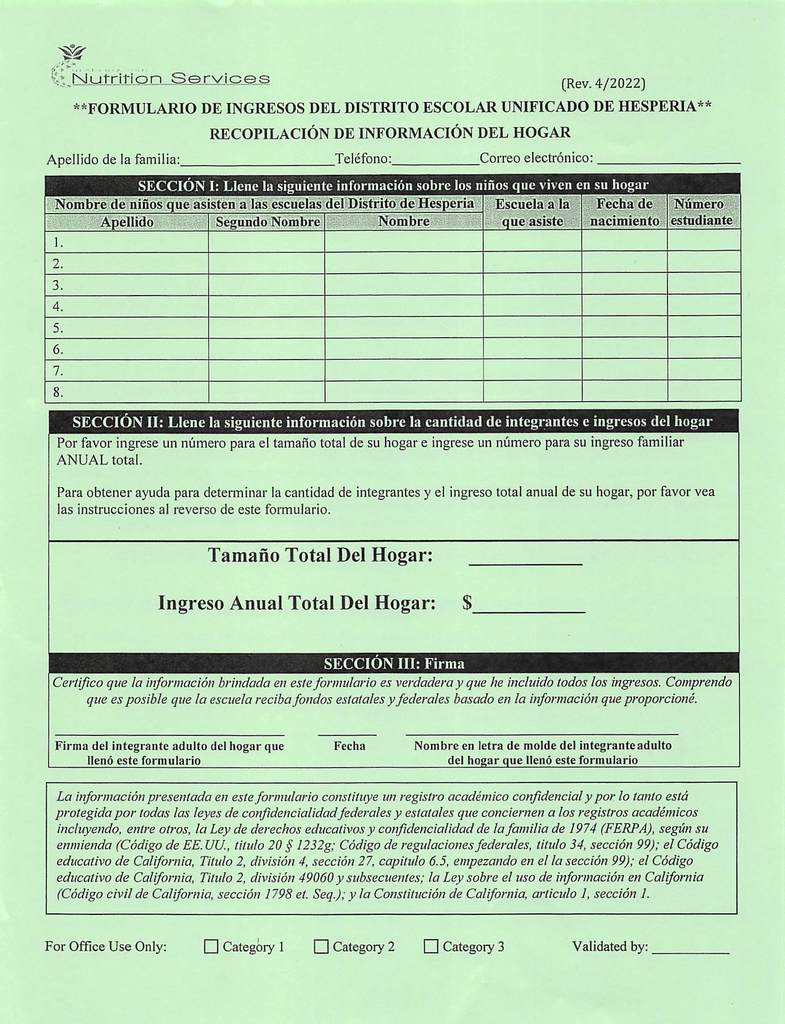 PTC is asking for candy donations for our Howlfest. For each donation, you will get entered into a drawing to WIN a FREE meal and game tickets. Please drop off candy in the front office beginning 10/17. Thank you for your support!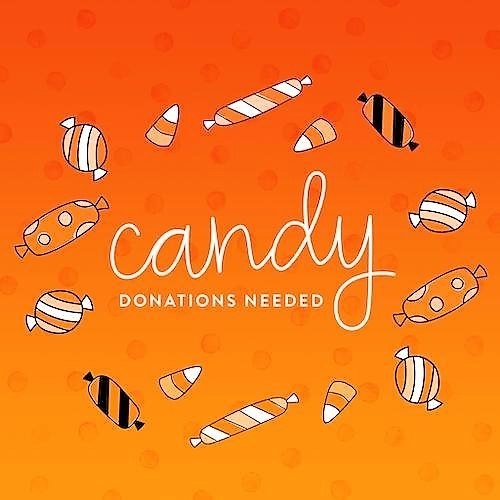 Good evening Coyotes. This is a reminder that we have no school next week, Oct. 10-14, 2022. We are closed for the Fall Break. Also, tomorrow is a regular day for our students. School starts at 7:30 am and ends at 1:47 pm. Have a safe & restful break! // Buenas noches Coyotes. Este es un recordatorio de que no tenemos clases la próxima semana, del 10 al 14 de octubre de 2022. Estamos cerrados por las vacaciones de otoño. Además, mañana es un día normal para nuestros estudiantes. La escuela comienza a las 7:30 am y termina a la 1:47 pm. ¡Tenga un descanso seguro y reparador!