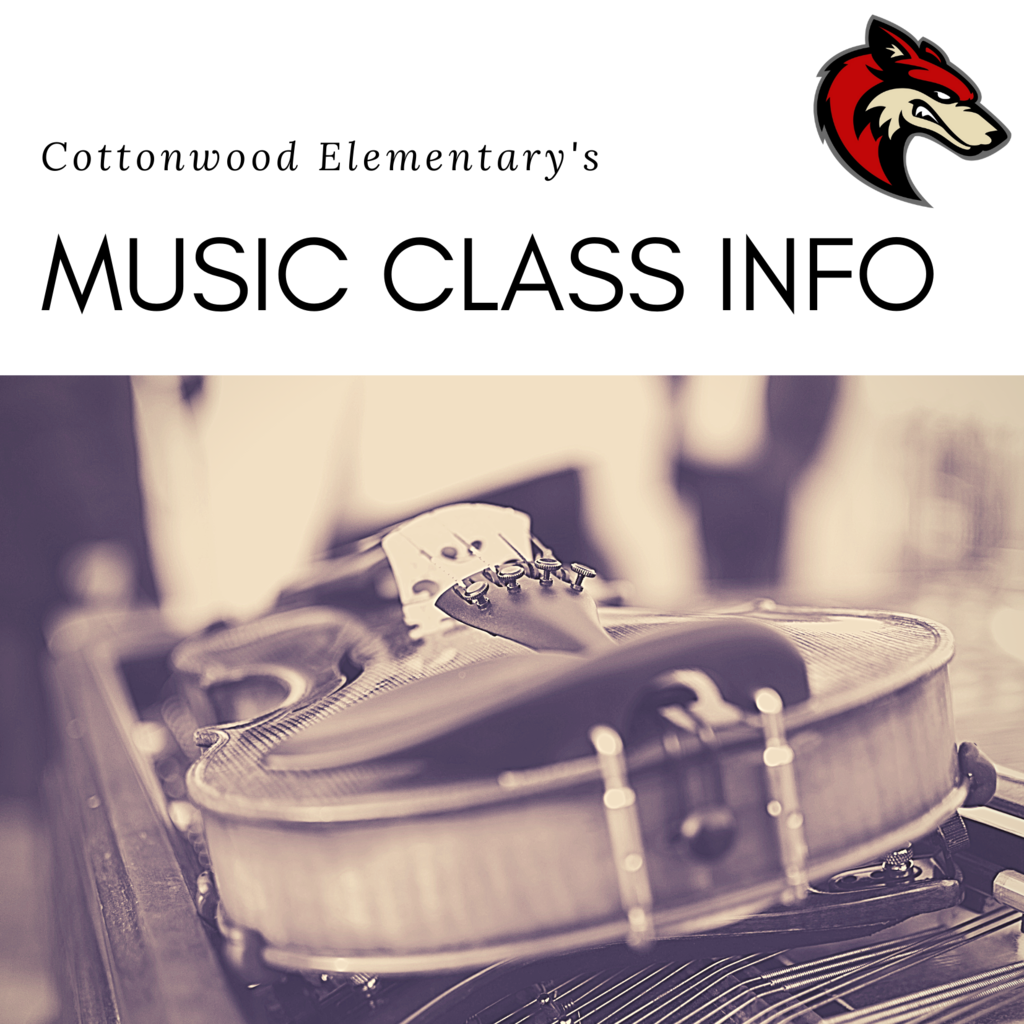 Thanks to our parents for being patient while we handed out Chromebooks. If your students need technical support, please email
cottonwoodsupport@hesperiausd.org
for help! Have a great weekend Coyotes! #itscottonwood

Cottonwood families, if you need to pick up Chromebooks for any grade level, please feel free to come by between 1-2 pm this afternoon (4/3). Have a great day!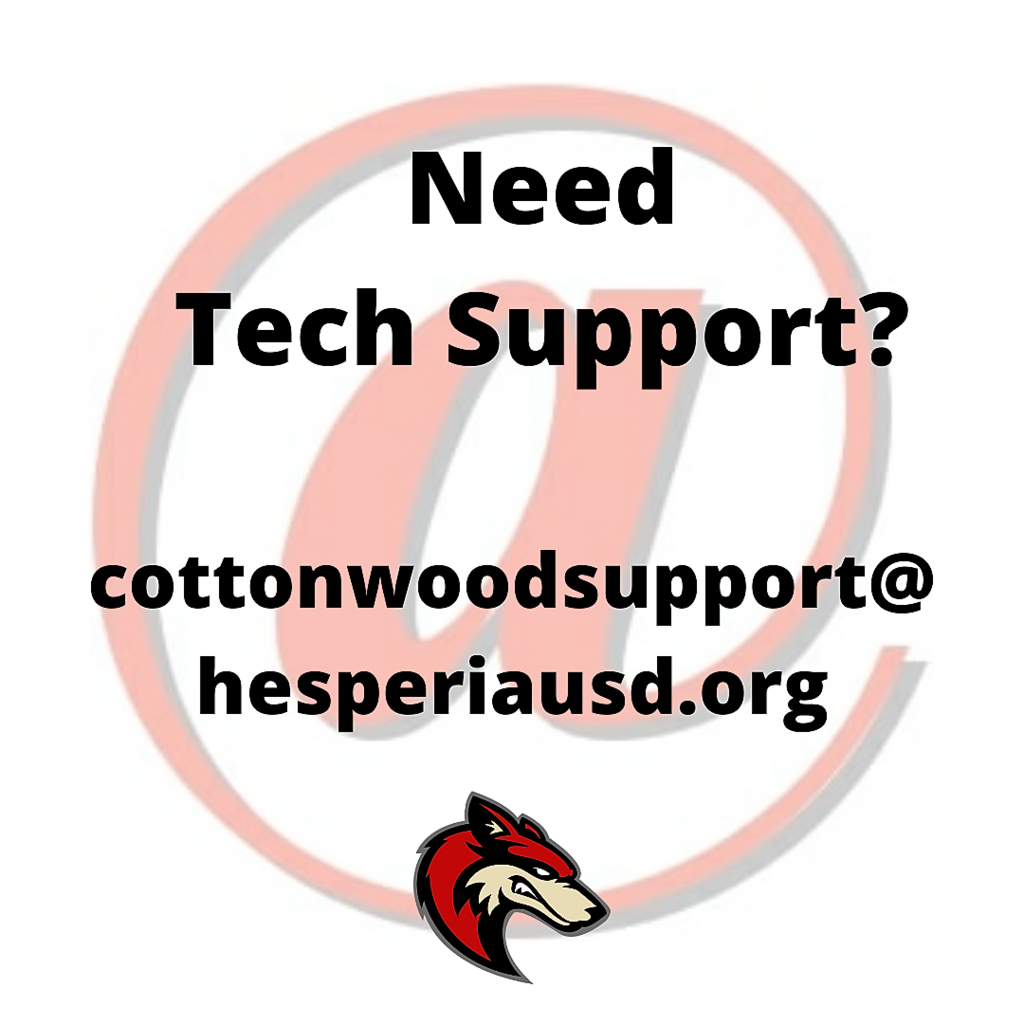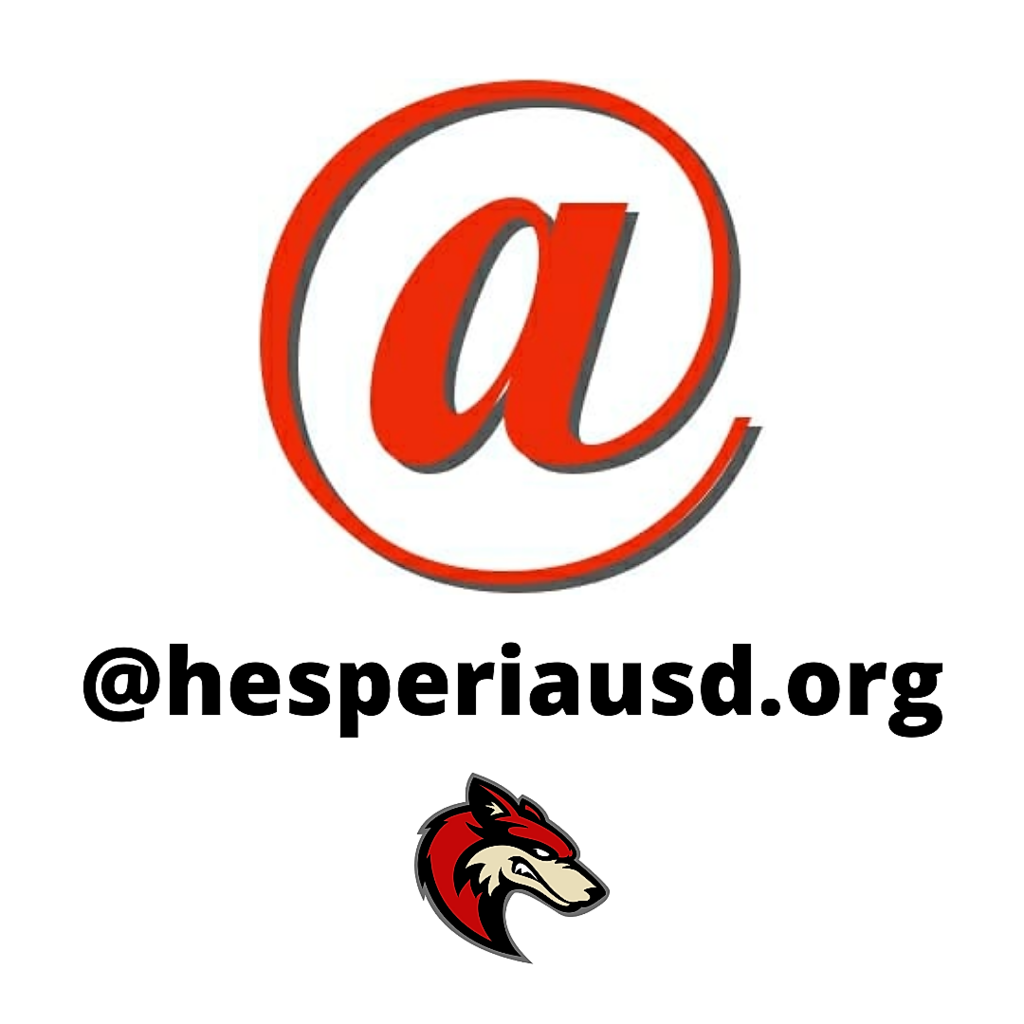 Recordatorio: Mañana comienza nuestra distribución de Chromebook. Los grados 1-6 están usando la unidad principal y Kindergarten está usando el lote de Kindergarten. Aquí está el horario: El jueves: 1er grado de 8:30 a 10. Paquetes de jardín de infantes de 8:30 a 10; 2do grado de 10:30 a 12; y 3er grado de 1 a 2. El viernes: 4to grado de 8:30 a 10; 6to grado de 10:30 a 12; y 5to grado del 1 al 2. ¡Hasta pronto!

Reminder: Tomorrow starts our Chromebook distribution. Grades 1-6 are using the main drive through and Kindergarten is using the Kindergarten lot. Here is the Schedule: On Thursday: 1st grade from 8:30 to 10. Kindergarten packets from 8:30 to 10; 2nd grade from 10:30 to 12; and 3rd grade from 1 to 2. On Friday: 4th grade from 8:30 to 10; 6th grade from 10:30 to 12; and 5th grade from 1 to 2. See you soon!

Update on TK/Kinder Registration. More info will be posted as we receive updates from HUSD. #ItsCottonwood #CoyoteStrong

If you have completed your student's packet for Cedar Middle School, please drop it off at Cedar. They have a box placed outside the main office where packets can be turned in from 9am until 2 pm Monday through Friday.

Dear Parents, with all that is going on in our community right now, we have decided to cancel our school fundraiser. Sorry for any inconvenience this may cause. Please return all money to those who ordered. Thank you for your understanding. Padres de Estudiantes Con todo lo que está pasando en nuestra comunidad por ahora, hemos decidido cancelar nuestra recaudación de fondos de la escuela. Lo sentimos por cualquier inconveniencia que esto causara. Favor de devolver todo el dinero recaudado a las personas que emitieron órdenes. Gracias por su comprensión.

Good evening Cottonwood families and staff. Due to the order by the Governor to stay home, the phones will not be on tomorrow. We are so sorry for the inconvenience. Please keep watching our Facebook page or checking the district website for current information. Have a good evening and stay safe! #itscottonwood

Good afternoon Cottonwood families and staff. The office phones will be on tomorrow from 8 to 10am to help answer any questions you may have. We will be closed for Spring Break next week but we will update you with other information as it becomes available. Follow us on Facebook and check out HUSD's supplemental resources at
www.hesperiausd.org
. Hope to see you all soon. #itscottonwood

Based on the recommendation from the state of California, it is recommended non essential gatherings be postponed at this time. The Student Council Dance scheduled for this afternoon has been cancelled. Thank you for your understanding and cooperation. HUSD will continue to keep us informed as protocols change.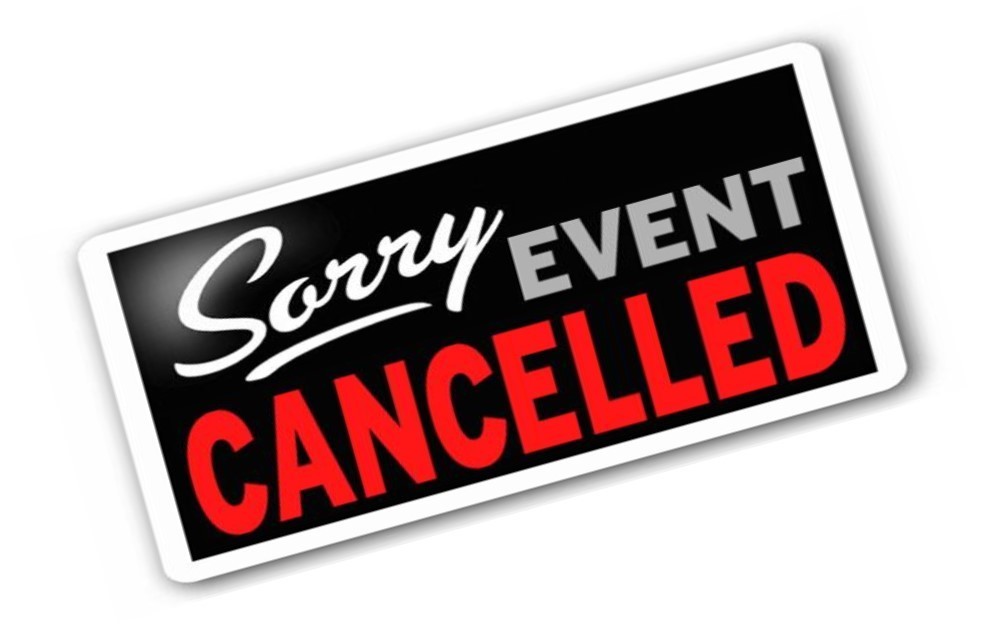 Due to rain in the forecast the Hesperian Ninja Warrior Finals will be rescheduled to FRIDAY, APRIL 3 2020. Elementary will start at 8:00 AM, middle school at 10:15 AM, and high schools at 11:15 AM.

Good morning Cottonwood families. Due to the cold weather & the poor track conditions, the 100 Mile Club after school program will be cancelled today. All participating students will be released to their normal dismissal locations. We appreciate your understanding.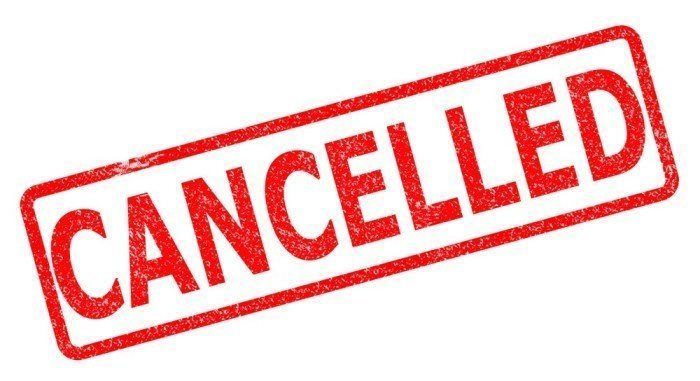 Hello HUSD parents and students. Here is the student calendar for the 2020-2021 school year (next school year). If you would like a hard copy of the calendar or have any other questions please contact the front office at your school.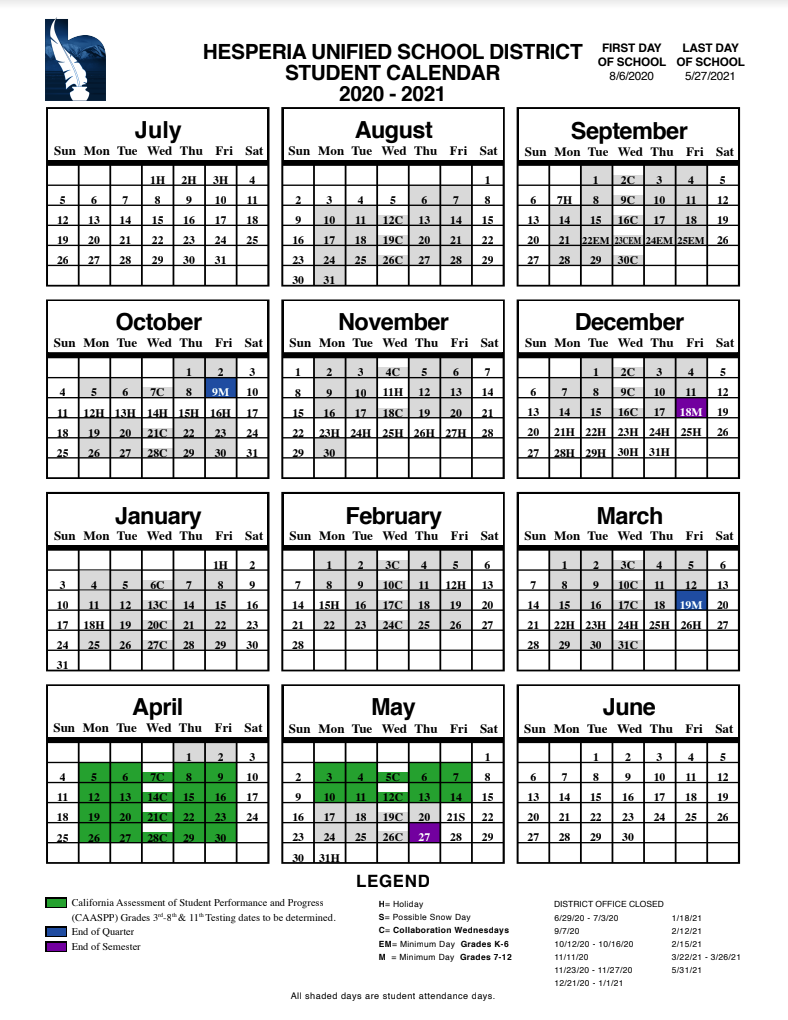 We hope you can join us on Thursday for Family Reading Night. See you at 5:30 PM at Cottonwood!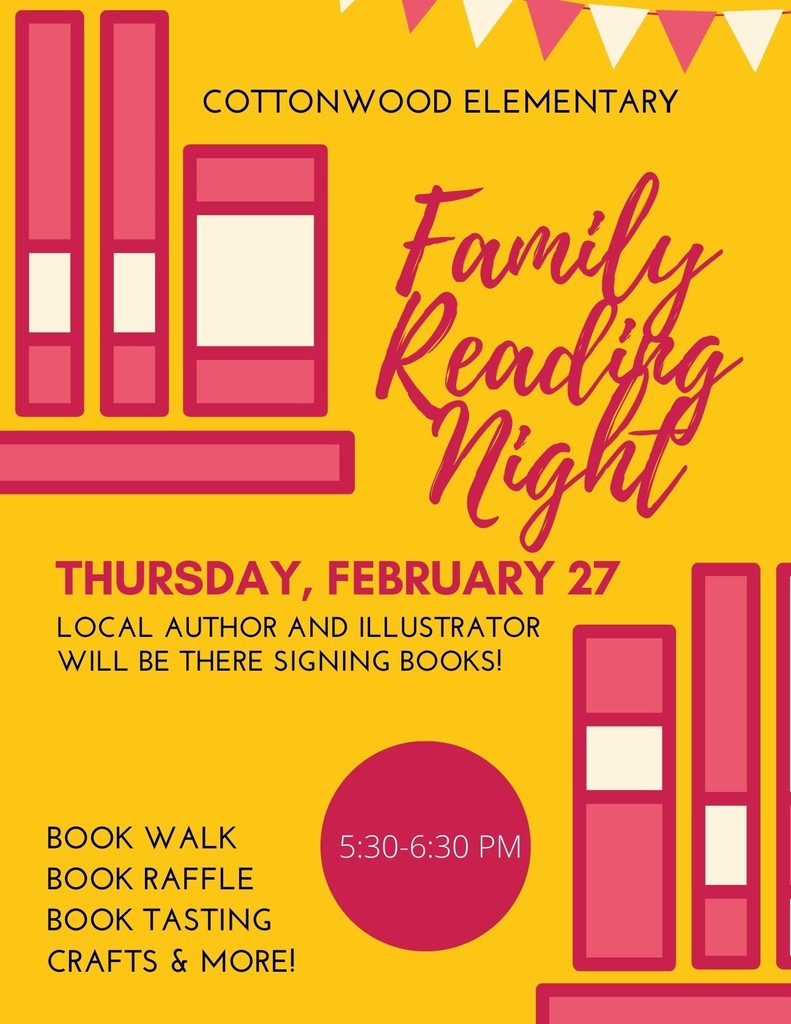 Good afternoon Cottonwood families. Residents of the Hesperia Unified School District may apply to enroll their student(s) in a school other than their neighborhood school for the 2020-2021 school year. An open enrollment application period for ALL SCHOOLS will be held from February 21 through March 20, 2020 at 5:00 pm. Applications are available in the school office. Visit
http://bit.ly/2Pd66gT
for detailed information.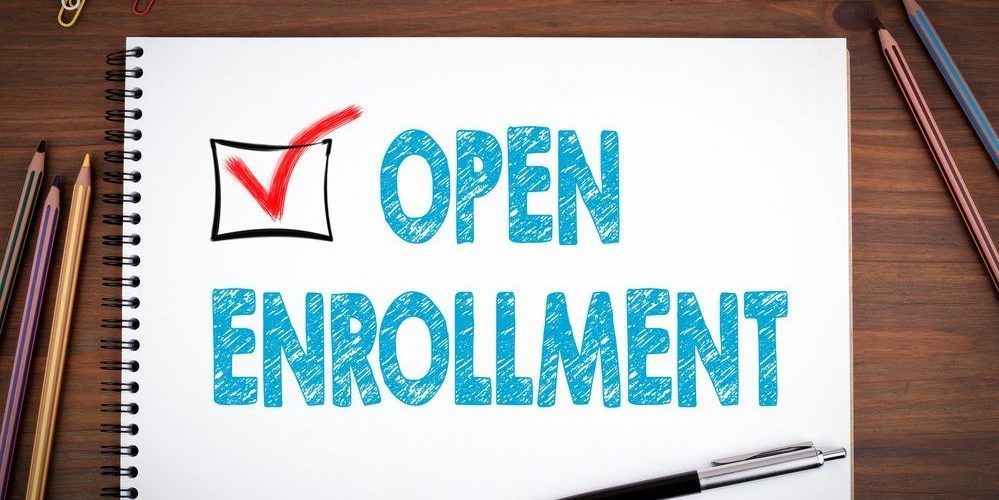 Good afternoon Cottonwood families. As a reminder, HUSD schools will be closed on Monday, February 17th in observance of President's Day. We hope you have a wonderful weekend and we'll see you on Tuesday.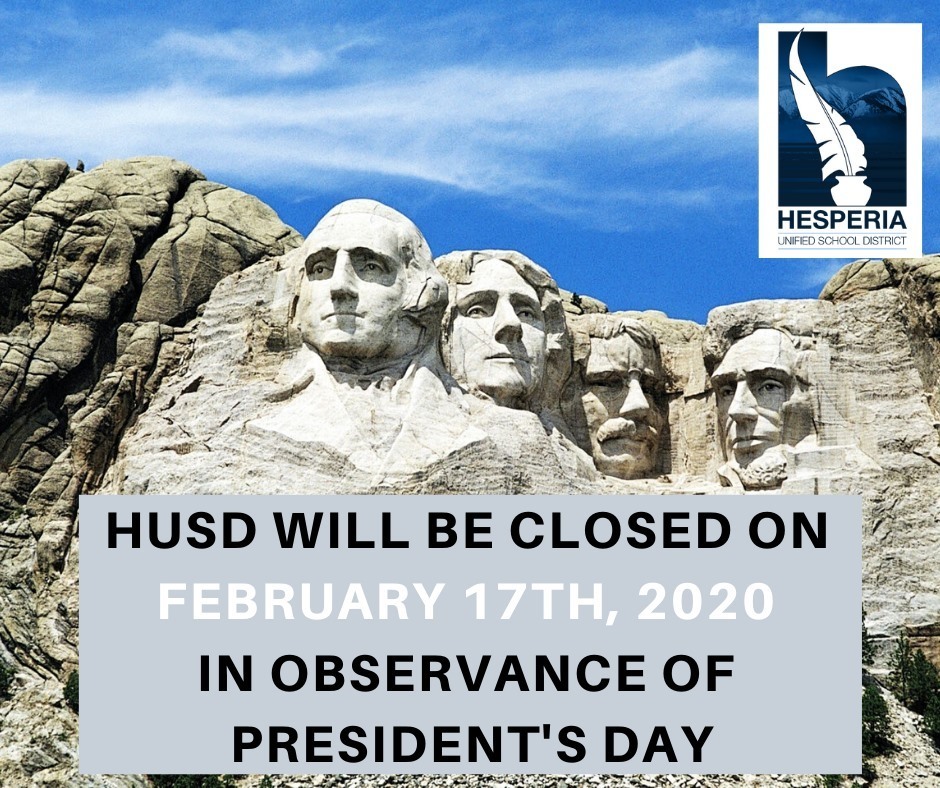 Join us tonight at Chuck E. Cheese, any time between 3-9 pm, to support our PTC's school fundraiser. 20% of sales will be returned to Cottonwood for activities and special events. Thank you for your continued support. Address: 12790 Amargosa Rd. in Victorville.